This is the fourth post in a five part series covering my recent travels through the Thuringia region of Germany. The first post was all about the town of Erfurt, capital of the Thuringia region. The second post explored the cultural elements of Germany's oldest town, Arnstadt. The third post explored the grand Friedenstein Castle which is home to over 350 years of Gotha history. This post will provide an overview of the vast amount of history and culture which can be explored during a visit to the historic town of Weimar. Are you ready? Great, here we go!
I recently visiting Weimar as part of my exploration of the Thuringia region but I have to be honest, it was Weimar that captured my imagination the most and left me wanting so much more. Weimar has been described as the home of German classical literature and the centre of musical life but I believe that's only scratching the surface of what Weimar has to offer.
From the moment our walking tour started, I didn't stop taking notes the entire time. If it was possible, I'm sure I would have had smoke billowing from my fingers from taking took notes on my phone!
Why Visit Weimar?
As with most of my posts, I want to share with you what I learned during my visit to Weimar and give you some helpful tips that you can use during your own visit to the Thuringia region.
The best advice I can give you about why you should visit Weimar is to paraphrase our ever-so knowledgeable guide Alex;
"with every couple of steps there's something to see in Weimar"
This is literally true! We'd be learning about an important building and then we'd take two steps before being informed about the cultural significance of nearby statue or important plant (yes, you heard me but more on that later). It wasn't surprising to learn that Weimar has been crowned the European City of Culture in 1999.
Where is Weimar?
Weimar is 120 km southeast of Leipzig. It's located only a 15 min train ride from Erfurt, the capital of Thuringia state, making it easy to visit both towns during a short weekend break.
Weimar is a relatively small city, measuring a grand total of 85 km² and with a population of 70,000 (including 5000 students), but the most impressive fact is that Weimar is over a thousand years old, 1117 years to be precise.
Just How Popular is Weimar?
I visited Weimar mid-November so it was after peak tourism season and before the Christmas Markets popped up and I was surprised by how busy the Old Market Square was. I thought that perhaps they were all part of an organised tour but, according to Alex, Weimar is usually this busy all-year round as visitors interested in history and culture flock from around Germany and the rest of Europe.
In six years Weimar has doubled its tourist visitor numbers.  A staggering 7 million visitors in 2015 up from 3.5 million in 1999. Incredible numbers for a small town in central Germany!
Famous Visitors
Weimar has also attracted some big name visitors in recent years with former US President Barack Obama visiting the nearby Buchenwald concentration camp in 2009 to pay tribute to his great-uncle Charlie Payne who took part in the liberation at the end of World War II.
The famous White Swan restaurant opened in 1552.  In 1993, the Japanese Emperor Akihito and Empress Michiko dined here when visiting Weimar. Since then, the White Swan has had so many requests from Japanese customers to eat the same meal as the Emperor, that their meal has now become an unofficial menu item. Whatever your reason is, my suggestion is to order the schnitzel. You won't be disappointed.
Weimar was the scene of the German Enlightenment (1772-1805), also known as Weimar Classicism, which was a cultural and literary paradigm shift towards new philosophies and ideals. Some of the most noted intellectuals who lived and visited Weimar during this time, which included; writer and statesman Johann Wolfgang Goethe, poet Friedrich Schiller, philosopher Johann Gottfried Herder, and composers Johann Sebastian Bach, Richard Strauss, and Richard Wagner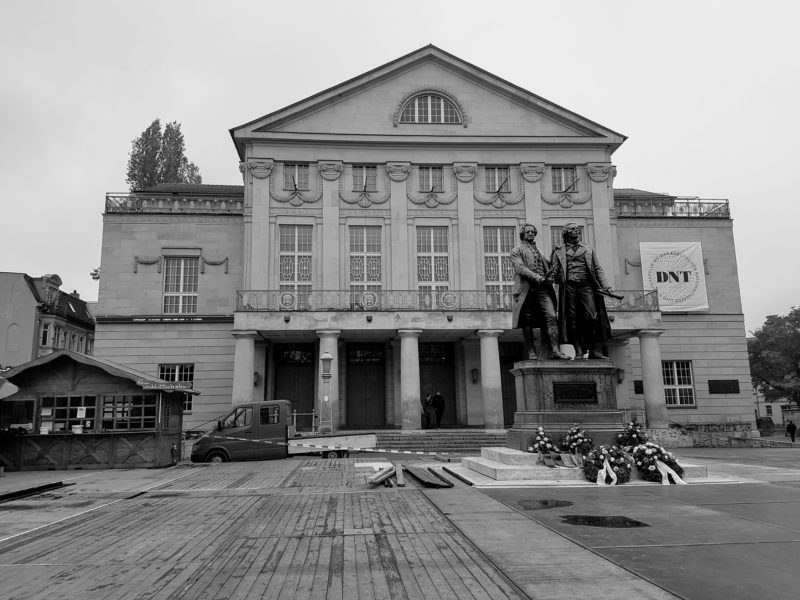 There's a saying in town;
"you don't need to leave Weimar because the world will eventually visit Weimar"
What Should You See in Weimar?
Old Market Square
Since there is just so much to see and do in Weimar a good place to start is in the Old Market Square.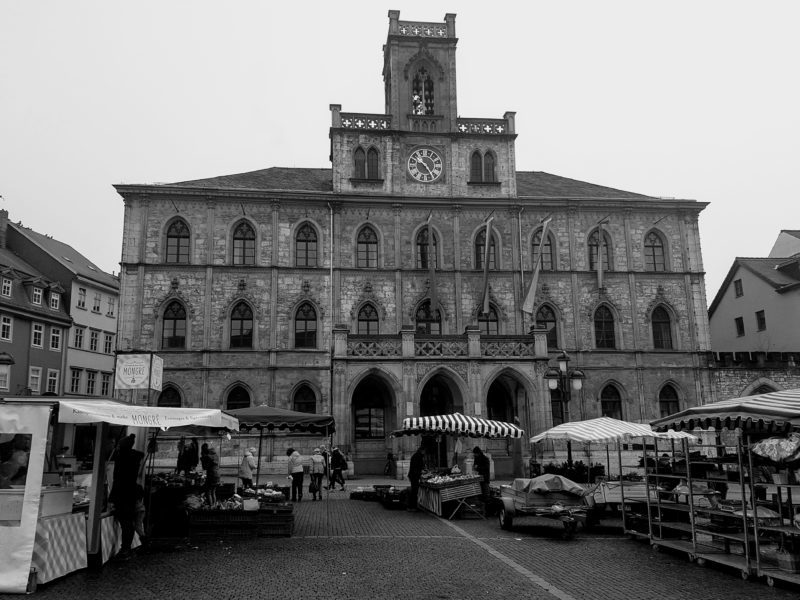 The Market Square is home to the Town Hall, Neptune Fountain, and various market stalls so plenty to see to start your day of sightseeing. The Tourist Information Office, which used to be a house for theatrical performances is also located here so no problems getting a local map and answers to any questions.
From a historical perspective, Weimar was heavily bombed during World War II sustaining substantial damage. In total approximately 15% of buildings were destroyed which equates to roughly one in seven houses.
The Town Hall (Rathaus)
The Town Hall which stands today in the Market Square was built in 1841 after the previous one was destroyed by fire. It's an impressive building warrants a photo, and if you stand in the right place then you can include both the Neptune Fountain and the Rathaus in the single photo.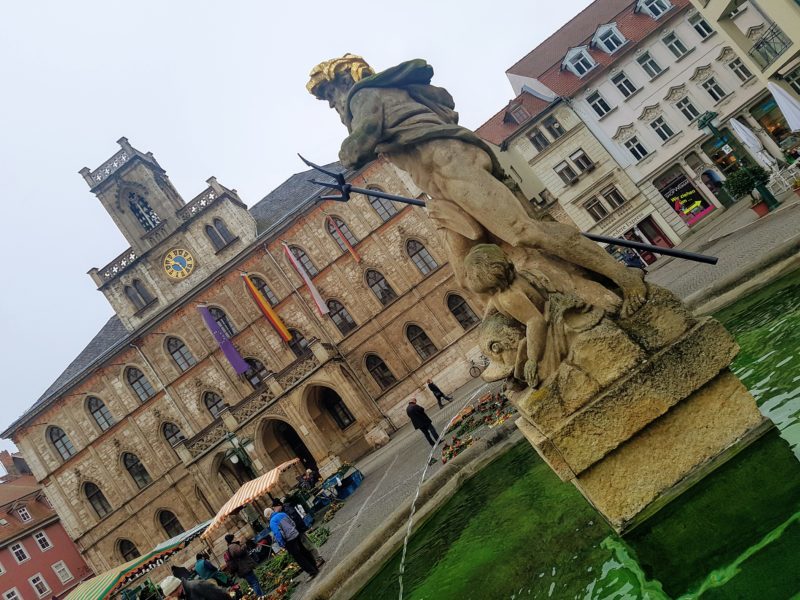 The bells which sit atop the Rathaus aren't metal, they are Meissen porcelain. Meissen porcelain, considered to be the world's best, because it is one of the strongest and most robust types of porcelain which how they can be made into ringing bells.
The Stadthaus
As you stand in the Market Square and take in the view, your eyes will focus upon an interesting looking building with its green-white facade and unusual design. The Stadthaus is a 15th century Renaissance building and a great example of hundreds of years of history blending cohesively with a vibrant and popular town.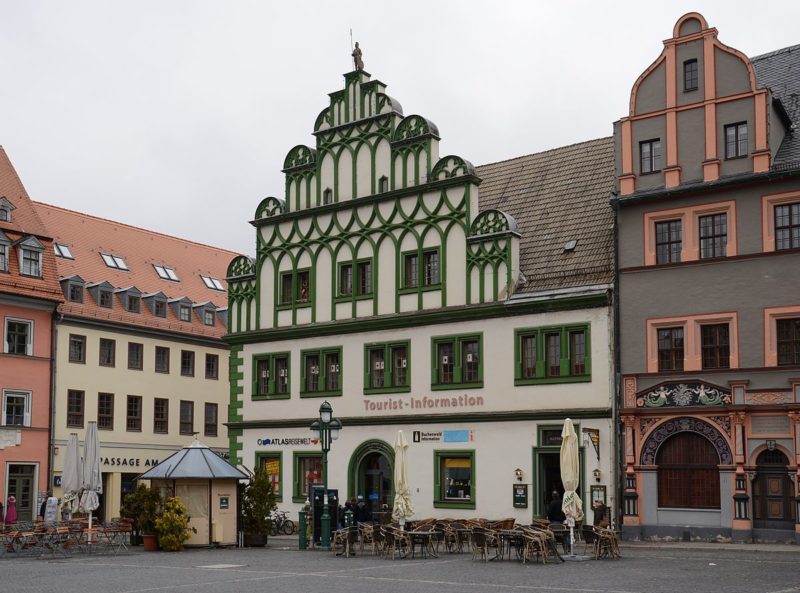 The Elephant Hotel
The Elephant Hotel is the largest and most luxurious hotel in all of Weimar and the Thuringia region. It started life as an inn in 1696. It was place to be during the German Enlightenment period where luminaries such as Goethe, Schiller, and Johann Sebastian Bach once stayed. However, it was during the 1930's where the hotel underwent substantial reconstruction (in essence destroyed and rebuilt) for use by Adolf Hitler and the Nazi Party.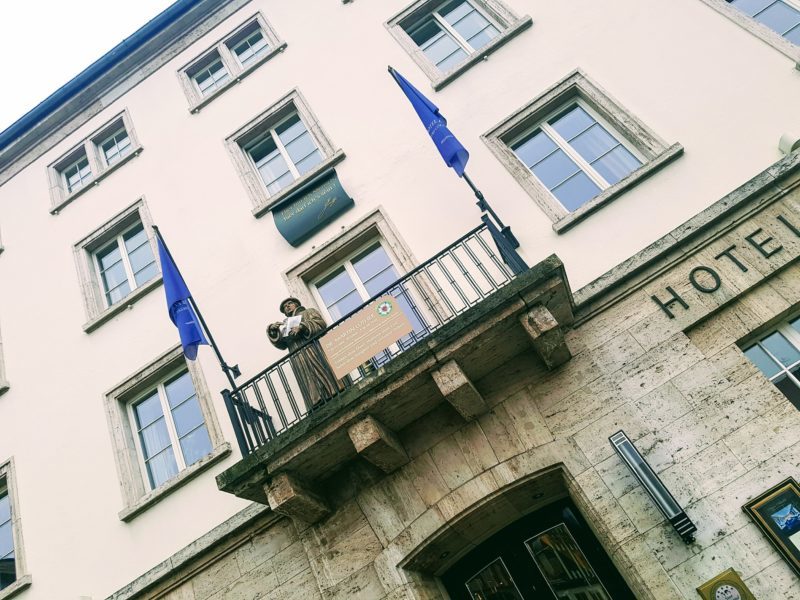 The balcony, located above the main entrance (and a second at the back of the hotel), was used by Hitler during his frequent stays at the hotel. Today, the balcony is occupied by a statue of Martin Luther, in celebration of the 500th anniversary of the start of the Protestant Reformation.
Museums
There are 20 museums in Weimar so you're probably going to need to be selective about which ones you add to your itinerary. Arguably, I don't think that you can go past the Goethe National Museum, located in Goethe's historic residence.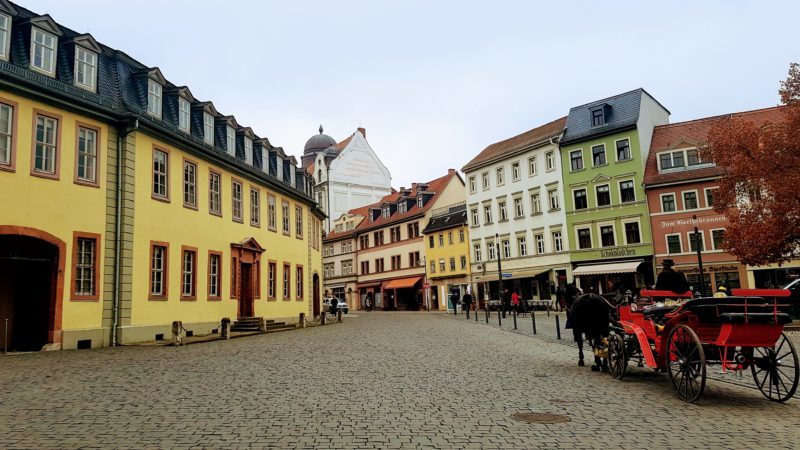 An interactive museum designed to capture the imagination, stir the thirst for knowledge, and encourage all visitors to understand the legacy left behind by Goethe – poet, playwright, statesman, and philosopher.  
Ginkgo Biloba & Weimar
Isn't Ginkgo Biloba a plant? Yes, yes it is.
If you do visit Weimar, you may learn that the Ginkgo biloba plant is quite a big deal and it all stems (see what I did there?) from a poem from Goethe that sent to Marianne von Willemer in 1815 as a sign of friendship. Goethe pasted two Ginkgo biloba leaves onto the poem, which were taken from the garden in Heidelberg Castle.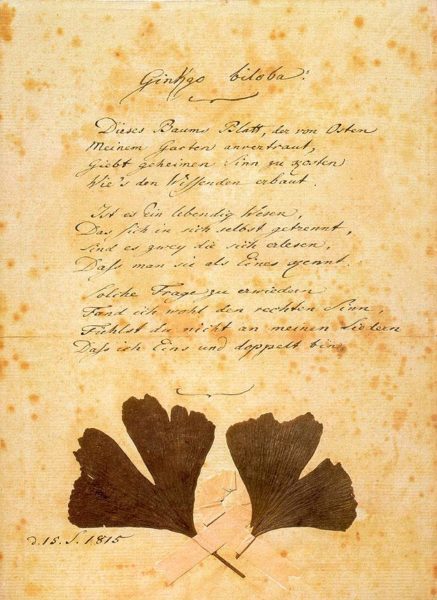 Why the fascination with the Ginkgo Biloba? Well, Ginkgo is considered to the world's oldest plant and since the leaves have two distinct lobes, it is thought that it represents that everything in life has two parts – Good/Evil, Man/Woman, Life/Death.
Weimar is home to the world's only Ginkgo Biloba Museum so make sure you go visit.
Democracy Square
Talk a stroll through Democracy Square where you can see the Duchess Anna Amalia Library, one of the most celebrated buildings in all of Weimar. The library is home to a vast collection of historical documents and literature.
During our visit, I learned of the 2004 electrical fire which destroyed over 50,000 books, many of which were from the 16th century and considered priceless. If you do get a chance to visit then just inside the main entrance there is an exhibition detailing the fire and the subsequent restoration works.
Grand Ducal Palace
The Grand Ducal Palace, also known as Stadtschloss Weimar, is a UNESCO world heritage site.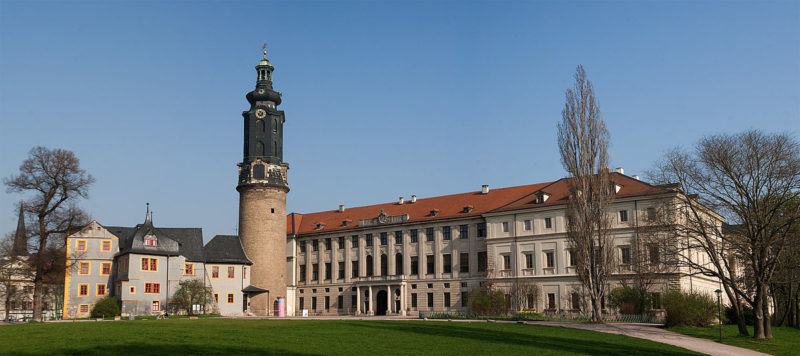 Located on the north-end of the Park on the Ilm, it is one of the most visited sites in all of Weimar. The castle was originally built as a private residence for the Duke of Saxe-Weimar-Eisenach over 500 years ago.  Today it houses the Castle Museum which displays the grand art collection.
Park on the Ilm
If you're looking for a little peace and quiet away from the history-seeking tourists and culture hunters then I'd suggest heading to the Park on the Ilm, the largest park in Weimar. The park measures 48 hectares (119 acres) and created between 1778 and 1828 and has been listed on the UNESCO world heritage list since 1998.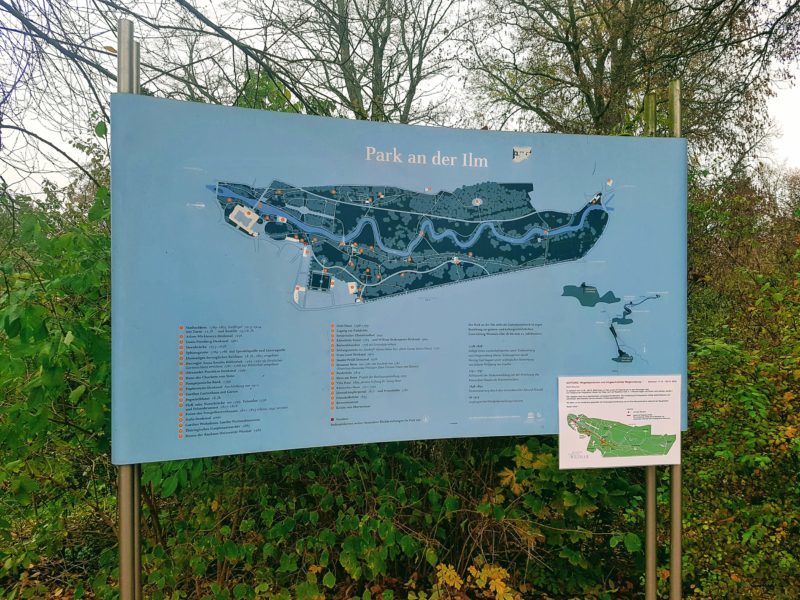 During your visit, take some time to stop by Goethe's Garden House, the first house which was given to Goethe by Duke Carl August. As you walk through the park you may see some historic ruins but you might be surprised to learn that these are, in fact, artificial. The artificial ruins serves a World War II memorial and can look quite romantic in early morning mist.
The Shakespeare Connection
Did you know that outside the UK, Weimar is considered to be home to the biggest Shakespearean fan club/appreciation society in the world. Who would have guessed that?!  
A monument to William Shakespeare was erected in the park in 1904 which was commissioned by the Deutsche Shakespeare-Gesellschaft (German Shakespeare Society).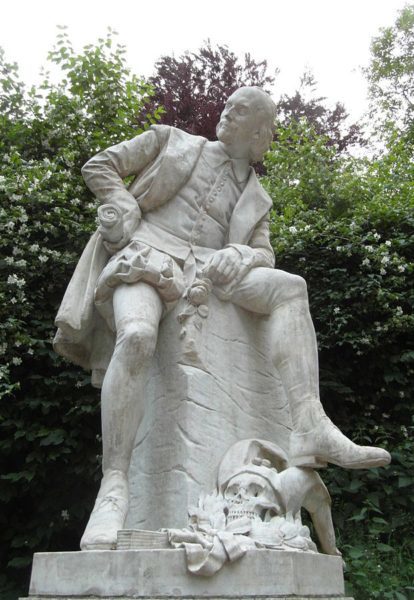 The city of Stratford upon Avon, birthplace of William Shakespeare, gave a gift to the people of Weimar in celebration of The Bard. The gift? A working mailbox located in the wall of the Town Hall.
Final Thoughts
I've only scratched the surface of all the reasons why you should visit Weimar but if you're interested in any of the items I've listed then you'll definitely love spending a weekend in the historical and culturally intriguing town of Weimar, Germany.
Have you visited Weimar before?
What did you think? Tell us in the comments below
Disclaimer: 
Our visit to the Thuringia region was in partnership with the Thuringia Tourism Board.  As always, all opinions expressed are our own