So in case you missed our monthly wrap up posts here's what we've gotten up to in the last 8 weeks. This is the our intro to 2017, a combined post for January and February.
January
January was a bit of a localised non-event.  My post-Australian Christmas blitz trip was over, the sky returned to the familiar grey gloom I'd become accustomed to and the winter blues quickly set in.  
But there was no better way to get rid of the winter blues than by taking a day trip to Longleat House for the annual Festival of Lights.
For the past three years, Longleat House has been the home to Europe's largest Chinese Lantern Festival and, this year it coincided the 50th anniversary of the Longleat Safari Park. Celebrated with a particularly impressive animal-theme lantern wonderland and was a very impressive display which dazzled the crowds once sunset had taken place.
Now, if the names Peter Rabbit, Mr McGregor, or Mrs Tiggy-Winkle sound familiar then you would love the other theme of this year's Festival of Lights, a celebration of the works of Beatrix Potter, the beloved children's author.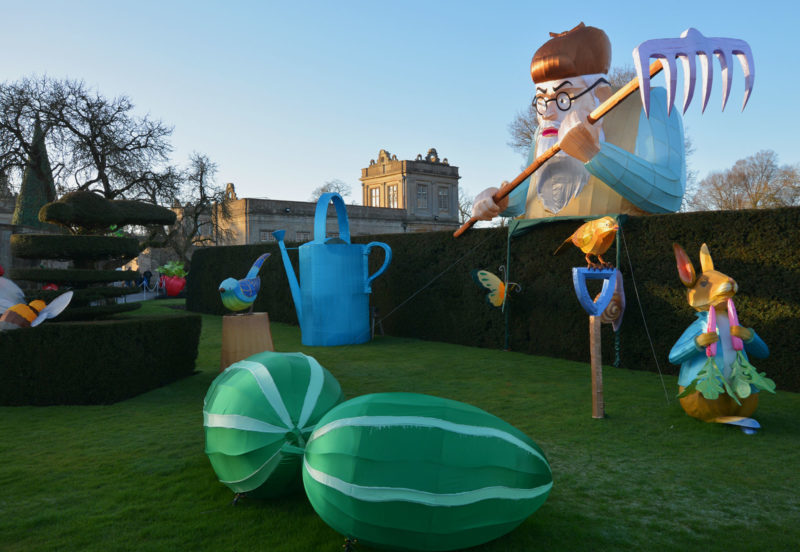 One other highlight of our visit to this year's Festival of Lights was that we decided to explore the famous Longleat Safari Park, the very first drive-through safari park outside of Africa!
…did you say Drive Through Safari Park?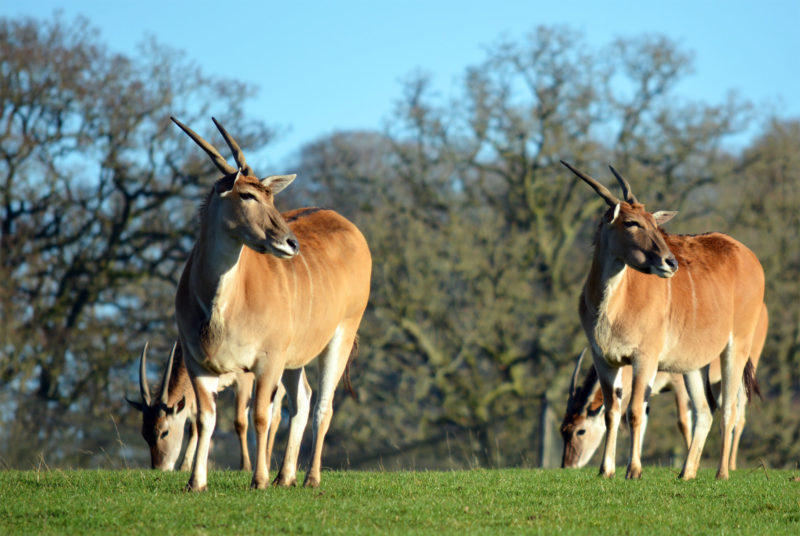 So so far you can see it had planned to be a relatively quiet month by our usual standards!
A quick weekend getaway to Cyprus gave me a restoring boost of Vitamin D and gave Russ the opportunity to explore thousands of years of history (which he LOVED). The weekend consisted of days of endless blue skies, the sparkling blue of the Mediterranean Sea, the smell of salty sea air kept us in heaven and ready for some more adventures.
.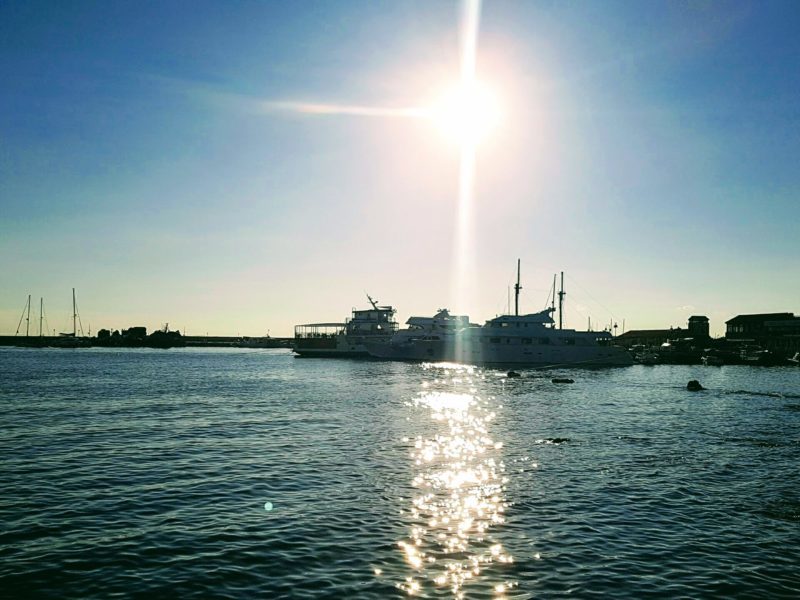 We explored the UNESCO sites of the Tombs of the Kings and the Paphos Archaeological Site which showed us a side to Paphos we didn't know about (but isn't that the point of travelling?)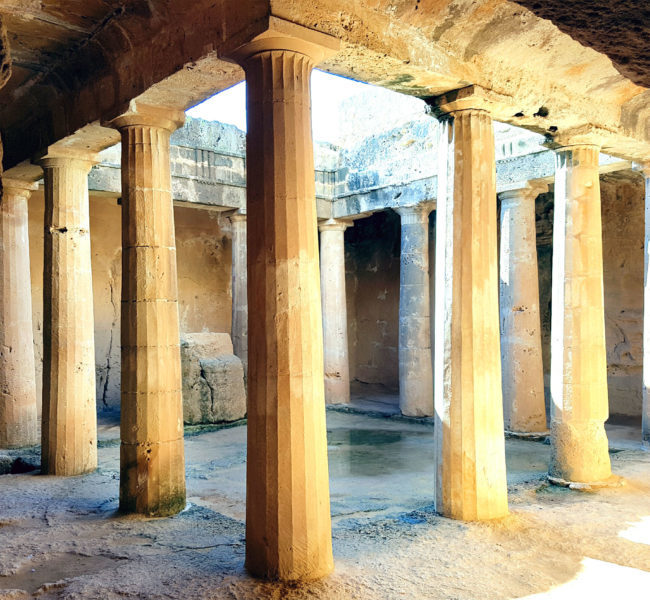 Another highlight? The Food. Oh my… the food. Where do I even start? The combination of Greek and Turkish cuisine had me in a constant state of hunger. It was an interesting experience dining in Cyprus because on one hand we'd make an effort to sample all the delicious food (that's when choosing the Meze becomes the best idea in the world) and then we'd be ridiculously full…but still thinking about the next meal! It's foodie heaven!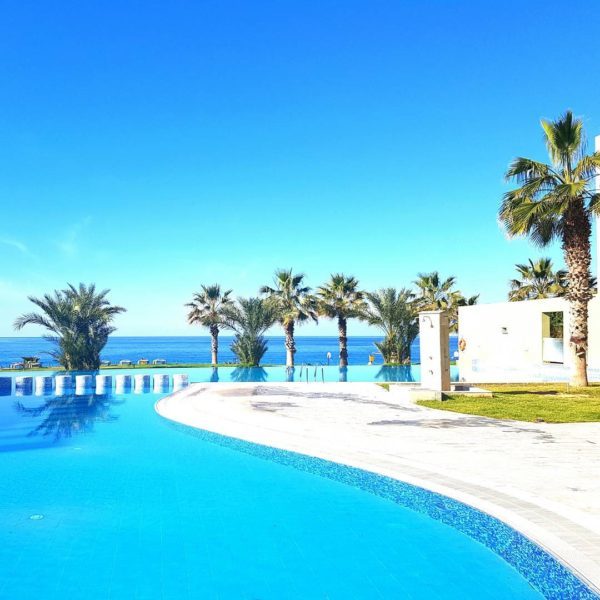 January 26 is Australia Day. For me it was another Australia Day spent in London, a long way from home…
In Australia, our national day is a celebration of all things Aussie. 'Straya Day is chock full of barbecues, beaches, sunshine and sand. It's a public (bank) holiday and an annual hoot for so many.  In the UK it's a bit different. The weather is the obvious difference, barbecue is virtually non-existent and there's no beaches to be found. This year we splurged on some bespoke donuts.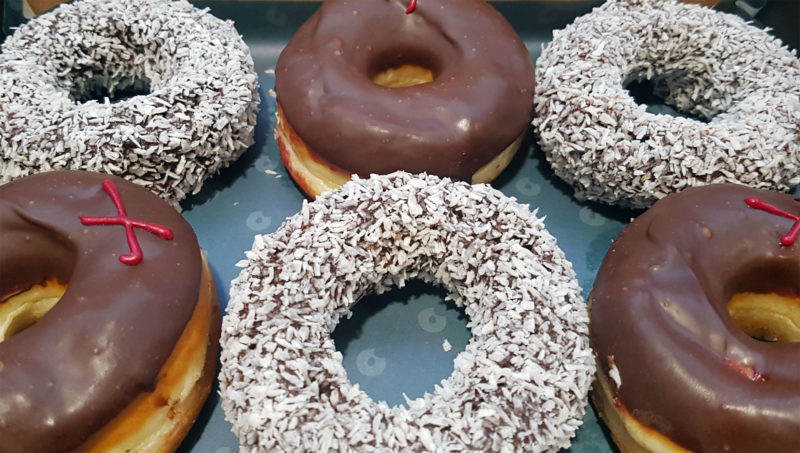 Yes, I know, I know. Donuts? So un-strayan!
A bakery in London's Soho sells pretty swish donuts so in honour of our 'Straya Day', I picked up some Lamington and Cherry Ripe donuts. If you've never heard of a lamington or a Cherry Ripe then here you go, my friends (they're lifestyle game-changers)
February
The shortest month of the year and there's only so much you can squeeze into 28 days. We kicked off February with a trip to the London Olympia for the Holiday and Travel show. We networked with some tourist boards from various destinations and collected some brochures which appealed to us (um… a trabant tour through Romania? Yes please!) and hopefully we can try and squeeze into what is fast becoming a very full year ahead. Those weekend trips away always creep up so quickly!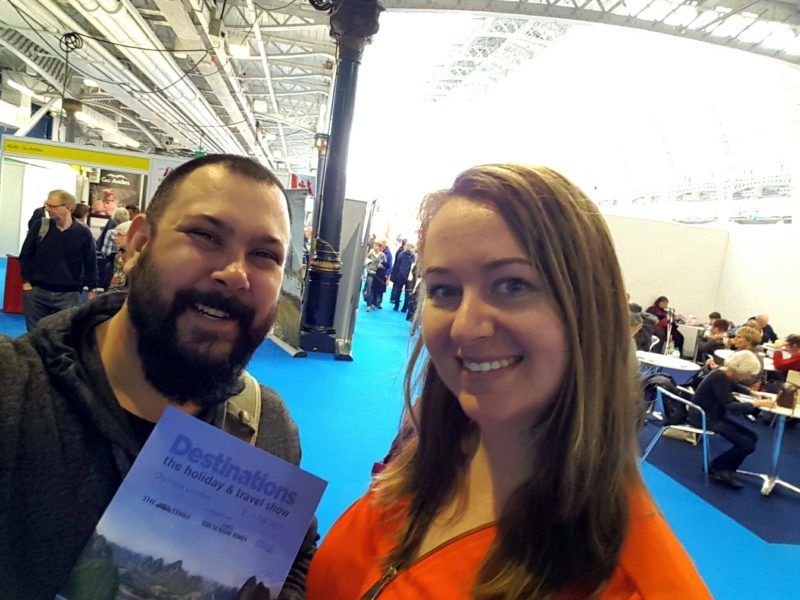 Russ headed back on the road again and spent a good portion of the month travelling up and down the UK. On his travels this month included; Cardiff, Bournemouth, Milton Keynes and Liverpool. It was nice to see that he managed to get a little downtime in Bournemouth to be able to send a photo of the beautiful Bournemouth beach.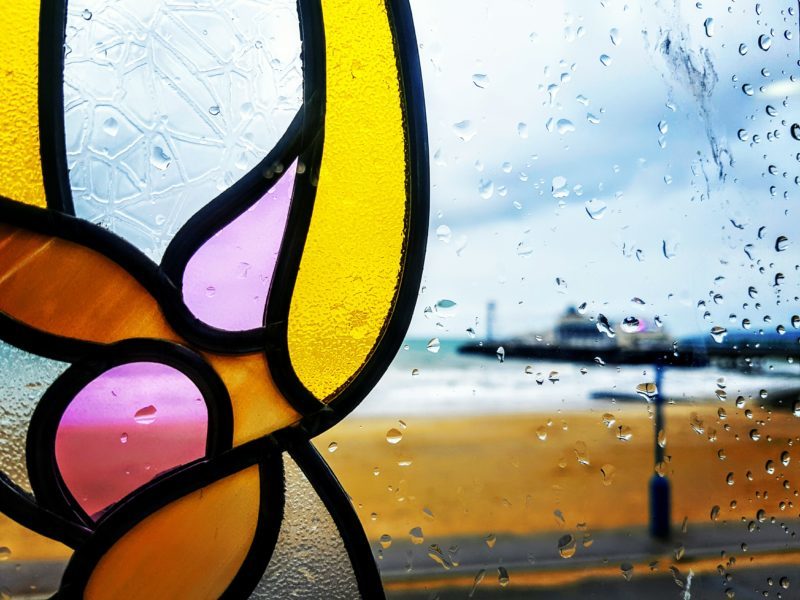 I scored an invitation to hang out with the fine folk at Atlantic Canada. At the delightful Ours Restaurant in South Kensington alongside Culinary Director and Michelin star chef Tom Sellers, he showed off his skills and the magic of Atlantic lobster.  The restaurant is a large open hall like structure with high ceilings and a mezzanine floor for private functions like ours. The cocktails were pretty tasty too!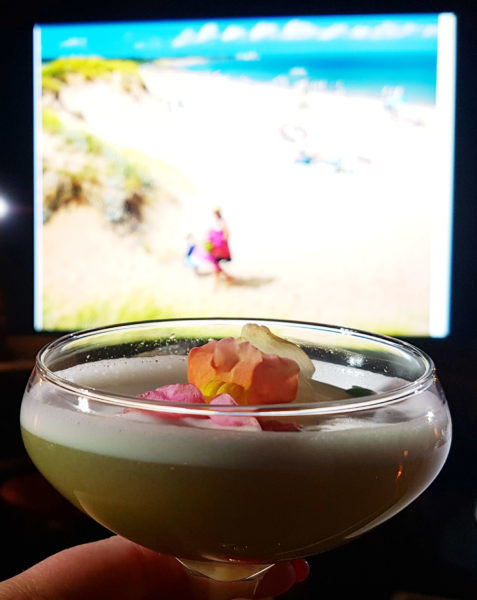 A very welcome romantic weekend away in Ludlow at the spa resort Fishmore Hall left us feeling all kinds of relaxed and ready to tackle the stresses of daily life again. We left London at 5pm on a Friday, feeling somewhat organised with pre-packed suitcases, and headed west towards Birmingham. Our destination was the county of Shropshire.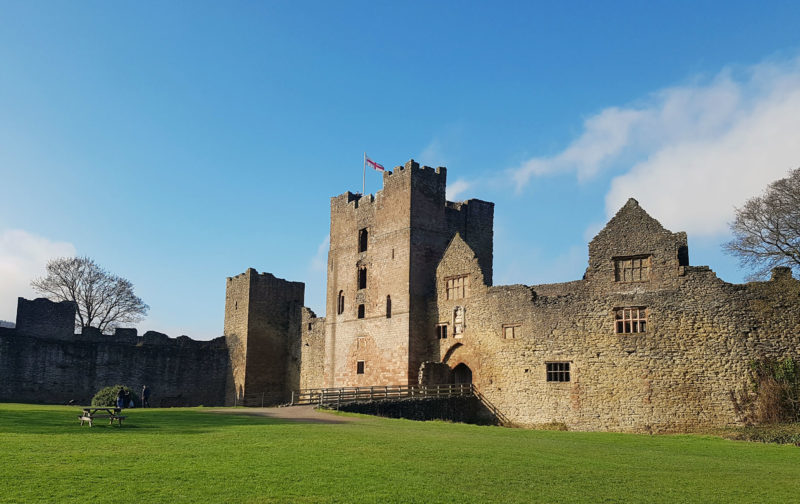 Our Friday night was spent just outside of Ludlow in a somewhat questionable Mecure hotel with no hot water (who needs hot water anyway…) but things improved dramatically once we arrived in the city centre of Ludlow. We visited the town market, purchased some delicious local cheese, and explored the very impressive Ludlow Castle!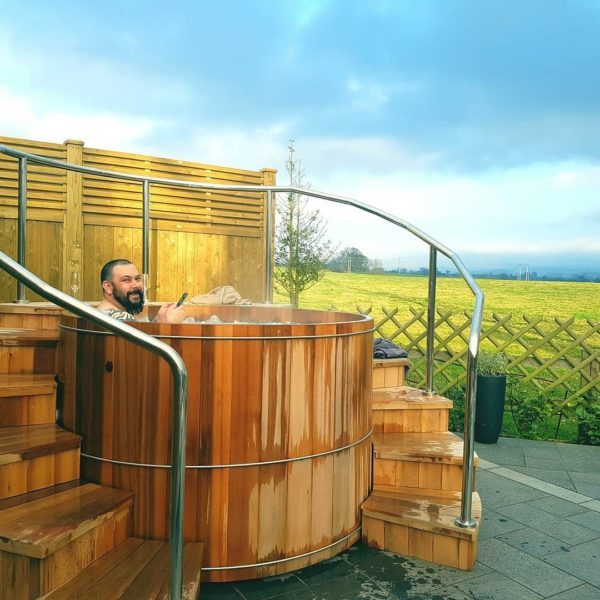 The relaxation began once we arrived at Fishmore Hall and we left on Sunday evening feeling like brand new people. Check out what made the visit to Fishmore Hall so heavenly.
Read more:  Weekend at Fishmore Hall
Did you know the Maltese capital of Valletta is next year's, European Capital of Culture?
Each year a city designated by the European Union which it organises a series of cultural events with a strong European dimension. It's a prominent driver for tourism to the destination with cultural activities and experiences as well as enriching lives of locals. I met up with the team from Malta's tourist board at one of London's chicest members-only nightclubs where they showcased Malta's music scene and their delicious cuisine.  After our Mediterranean sun adventure in Cyprus I'm really keen to explore Malta! Stay tuned!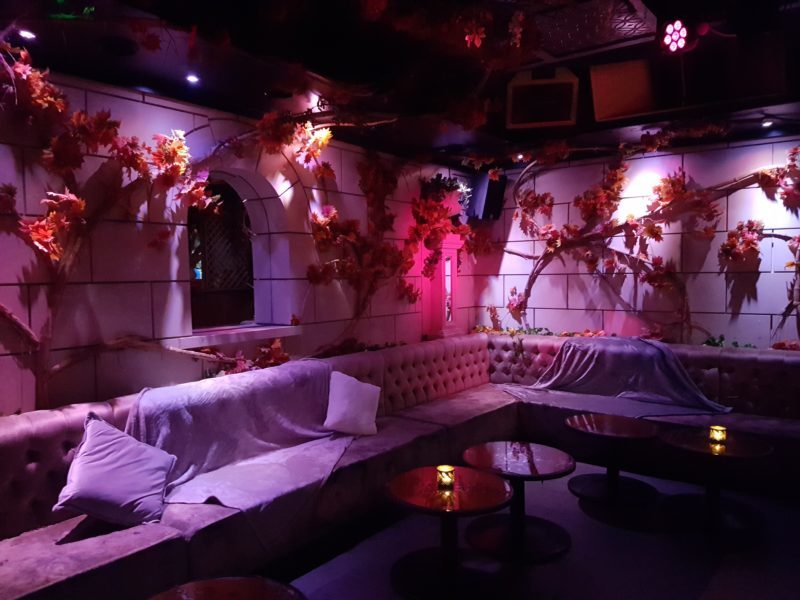 The Ball Pit
One of the highlights of February was visiting an adult ball pit located at the Museum of Happiness in Shoreditch, London. Yes, that's right…an adult ball pit!
There's no better way to leave the stress of daily life at the door and relax for awhile than jumping into a large ball pit and letting loose. You'd be surprised at just how tiring a 15 min session in a ball pit can be but it was oh so much fun.
The Museum of Happiness, located at the back of a Cafe in trendy Shoreditch. Initially launched in 2016 for a 3 day pop-up space (London LOVES a pop-up!). It proved such a success that it was brought back for the 2017 Winter Happiness Festival.   
Social Media
Most popular Instagram for the months of January and February was the Looking Up picture of Lawrence's Church in Ludlow.  Standing in the middle of the Nave and looking directly up into the tower and belfry.  Despite the obscure angle and symmetrical aspects of the shot, it did surprisingly well over the likes of Russ in a hot tub at Fishmore or the UNESCO world heritage sites of Paphos.  
What's coming up in March?
The 9 to 5 grind really picks up pace for us both this month so there's very little opportunity to do much travelling (for pleasure!)
I might be able to squeeze in a trip to the theatre, it's certainly been a while.  
TBEX International kicks off later this month. I'd planned to go, the idea of Jerusalem and exploring Israel stirs up the curious wanderlust in me.  Alas, we won't be attending.  With too much on in the way of work commitments and a few other things in the background it's just not going to be possible.  If you're attending and want some tips here's my 9 TBEX tips…
Read More: 9 Tips for a TBEX First-Timer
That's it for us for March! What have you got planned?