We enthusiastically threw our prepacked suitcases into the car and headed for the M40 towards Birmingham. Both of us clearly exuberant and eager to leave the smog and chaos of the city behind and spend a romantic weekend in the country. The county of Shropshire was our destination where we were booked to stay at Fishmore Hall. As smiles crept across our faces it was obvious we simply couldn't wait for it to begin.
Visionary owner Laura Penman transformed this 19th century former school house on the outskirts of Ludlow. It was derelict and left to ruin but since its acquisition it has been stunningly rejuvenated into a contemporary 15 bedroom luxury hotel.
We pulled into the driveway and were met with the grandeur of a white Georgian manor house with a glossy black regency front door.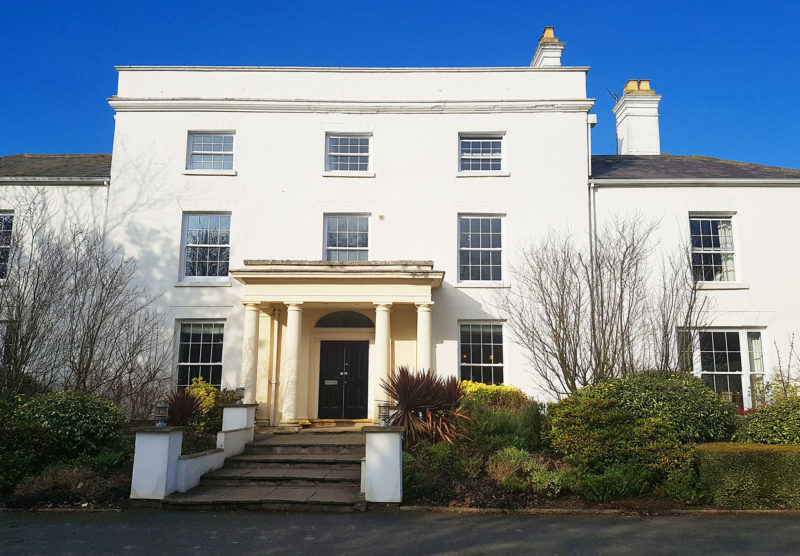 The hotel
We were warmly greeted with a welcome that you'd expect from an old friend, the check-in process was a smooth one. We're promptly guided up the main staircase and shown to our room, number four.  
Our room is a luxury double room. The entire space was bright with the morning light streaming in through the traditional sash window and the plush cream carpet underfoot I immediately relax and let the luxury wash over me.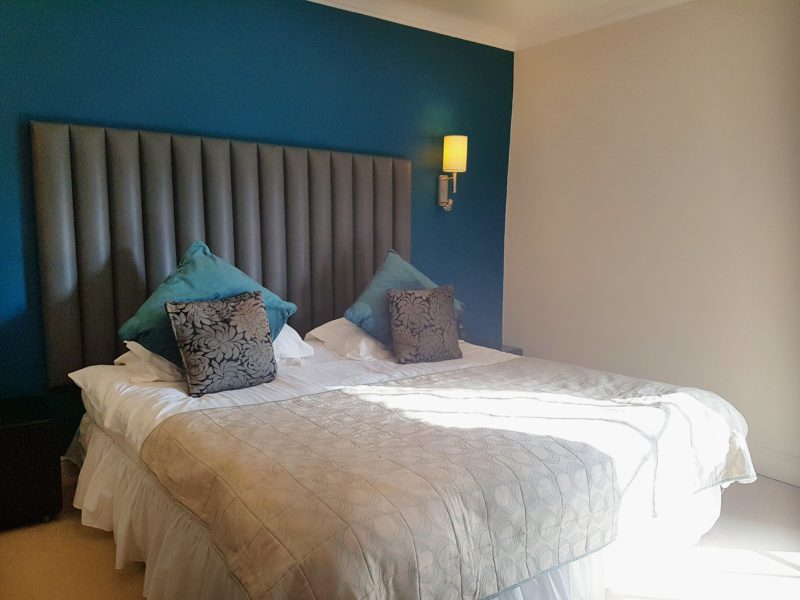 Nothing creates glamour and 'wow factor' like a well-appointed bathroom. Ours was equipped with a large double-ended bath with a waterfall tap, a walk-in shower big enough for two and separated by an oversized heated towel rail. ELEMIS miniature toiletries are neatly arranged on the vanity.
My eyes gaze across the superbly grand king bed which dominates the room with colour coordinated throw pillows stacked along the bed. The colour scheme is a deep teal and crisp luxurious white.
Tucked around the corner is a glossy black desk where one could write thank you notes or perhaps a blog post such as this one. Inside the wardrobe hang lavish robes and a small bar fridge which house fresh milk to accompany the tea tray and in-room Nespresso machine.   
I felt the hustle and bustle of city life leave my body as soon as I inhaled the fresh country air. Shropshire's countryside of green rolling hills span the horizon. It's all about relaxation at Fishmore. With rambling walks and a nearby par 3 golf course, neither of which rated high on my to do list, I changed into my resort clothes.  A long draped maxi dress and sandals, I set off to explore to the property further.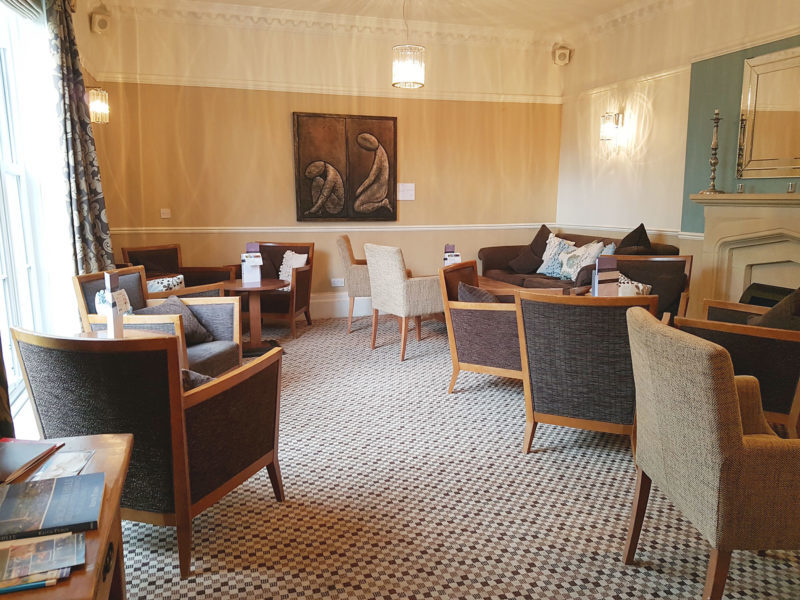 A large communal sitting room adjacent to reception is perfect for taking tea or an aperitif before heading to the onsite Forelles restaurant for dinner.
Spa Shell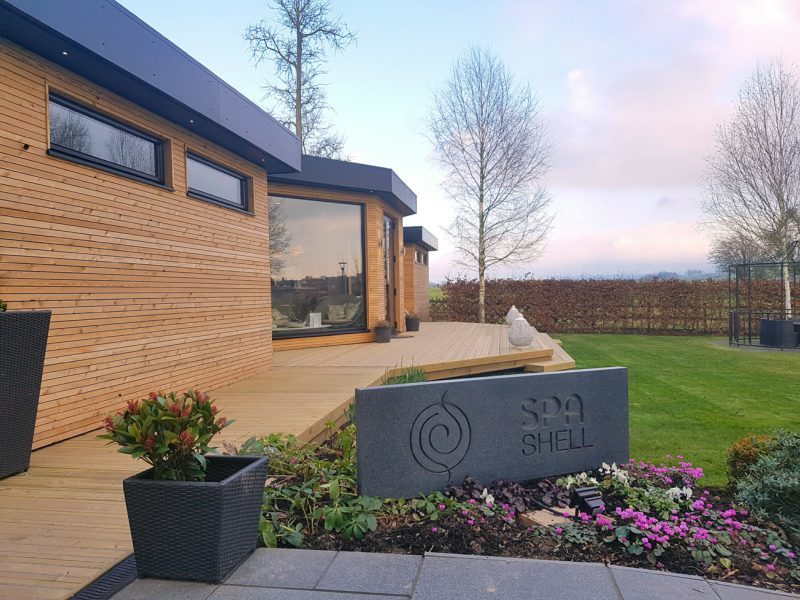 The Spa Shell is a new addition to Fishmore Hall which opened in November 2016. The small wellness centre consists of 4 treatment rooms which can be converted into 2 couple rooms. The assorted treatment list is exactly what you'd expect at a retreat like this, a number of delightful sounding treats to soothe your stressed body. No painful waxing here, it's all about leisure.  Facials, massages, pedicures are all available to book during your stay.  
I opt for the signature treatment, a 55 minute Lava Shell Thermal Relax Experience. Heated prosthetic shells act as extension of the therapists hands as they glide across your oiled skin. Wider sections of the shells are used for large surfaces, legs and back, with angles and edges perfect for kneading muscle knots and gliding across the crevices in one's hand. Deeply therapeutic is the best way to describe the entire experience.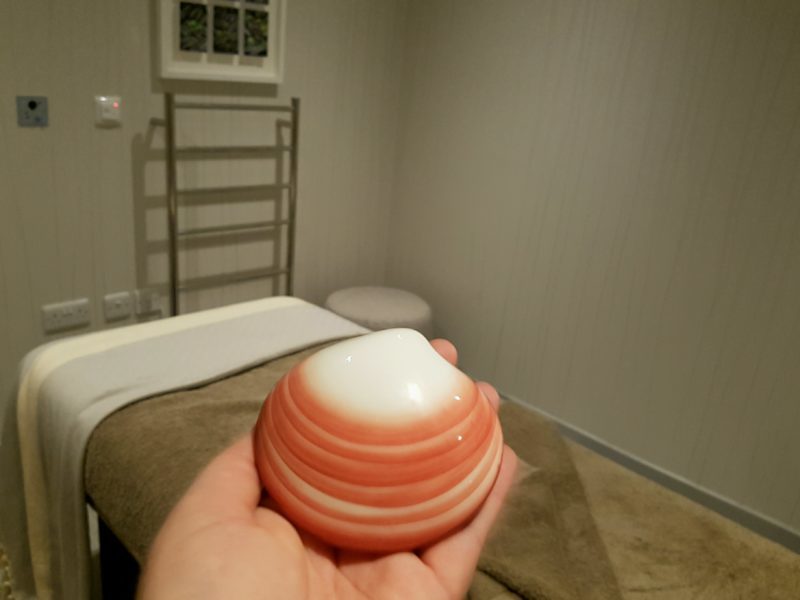 The lavender eye mask, calming music, and the heated massage table helped me leave my everyday worries behind. Gone are the thoughts of the mounting ironing or growing grocery list.
The hour flew by and I was a little sad to have to leave, I felt so comfortable and at home there. Rosie, my massage therapist gave me some aftercare advice about my tight calves and suggested a variety of stretches that might help.  
After floating on cloud 9 for the past hour, I was very keen to keep the vibe going so we skipped the enticing sauna and steam room and head outside to the decking for something even more exciting. At the back of the Spa Shell is an outdoor cedar hot tub and oversized hammock. The hammock was tucked away given the chilly February weather but the hot tub was more than inviting. We ordered some Prosecco to enjoy as we sat in the bubbling waters with a view overlooking the Clee Hills.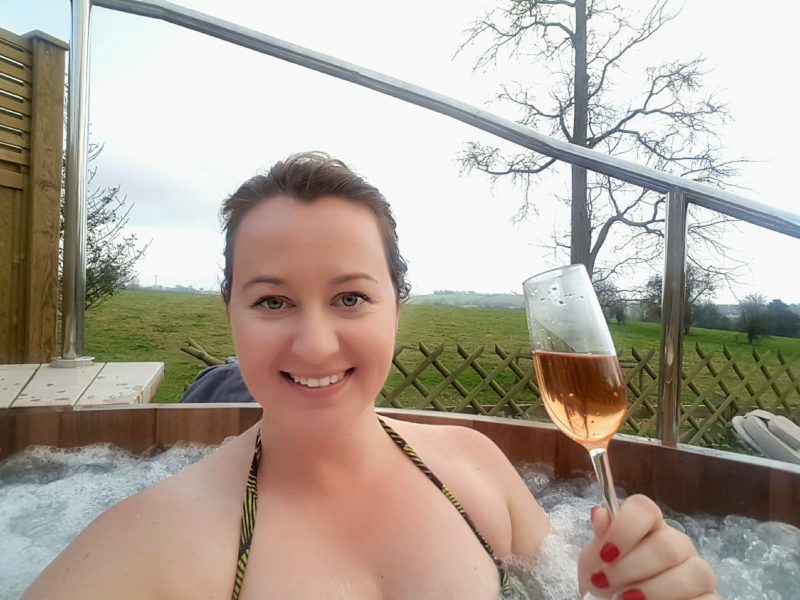 The secluded tranquillity of the environment simply oozed opulence and wistful romanticism that you'd expect on a honeymoon.  
In warmer weather, one could very easily while away the days on one of the many sun lounges or couple-up in the oversized hammock.  There's no stress or need to rush at Fishmore, everything seems to run smoothly and calmly like a swan gracefully gliding across the water.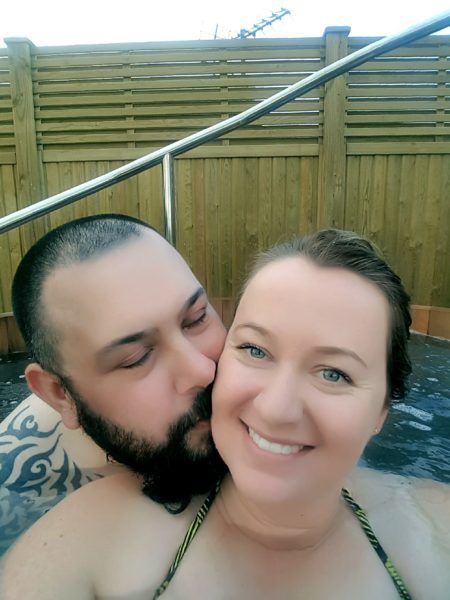 Forelles Restaurant
Head chef Andrew Birch has made it his mission to turn Forelles restaurant at Fishmore Hall into an all encompassing luxurious experience. Hotel guests have no need to leave in search of sustenance in nearby foodie mecca, Ludlow. Instead Ludlowians come to Forelles for breakfast, brunch and dinner.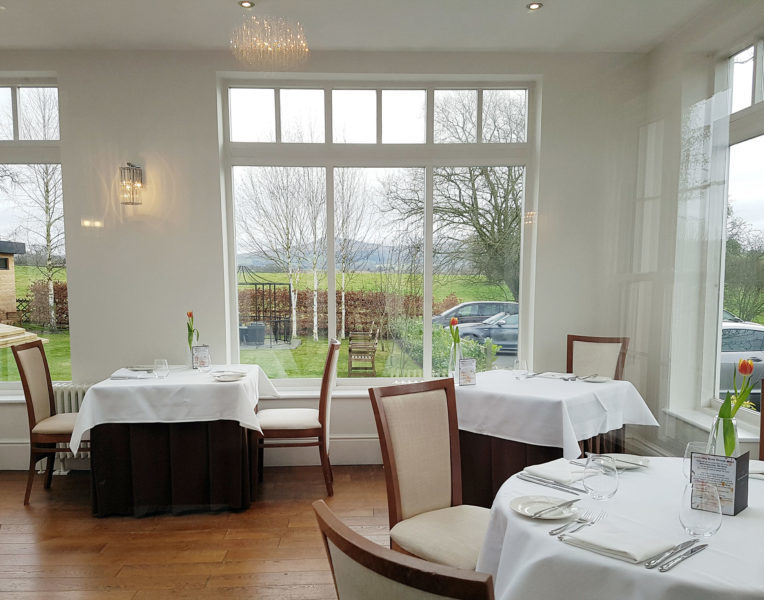 The Welsh-born Birch continues his passion for supporting local producers by actively sourcing the majority of the ingredients from within a 30-mile radius of the hotel.  Birch has been on a trajectory to greatness since being awarded Welsh Chef of the Year in 2004. He was featured on the BBC programme Great British Menu and a semi-finalist in the National Chef of the Year 2017.
The restaurant has been awarded 3AA Rosettes and also features in the 2017 Michelin guide. Both accolades come to those that are worthy and Forelles is most certainly worthy for it's classy low-key gastronomic experience.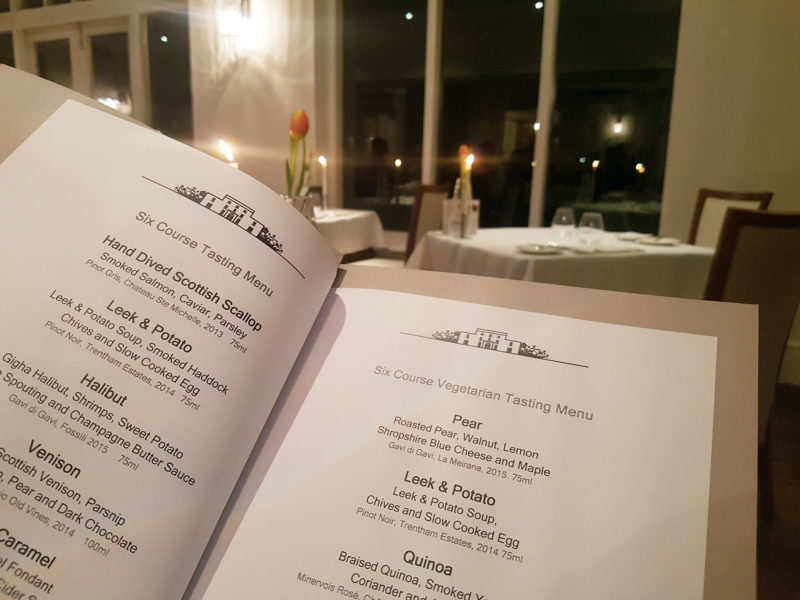 We jumped at the signature six course tasting menu. A vegetarian option was available but neither of us were interested in passing up (or sharing) the delectable meat dishes available. The tasting menu can be paired with an accompanying wine flight which we both opted for. After all, with our bedroom just 100 feet away up a set of stairs, it was too good to pass up.
Amuse Bouche
Pig's Head Croquettes with Apple and Mustard sauce and Cheese Choux
Braised Quinoa, Smoked Yogurt, Coriander and Aubergine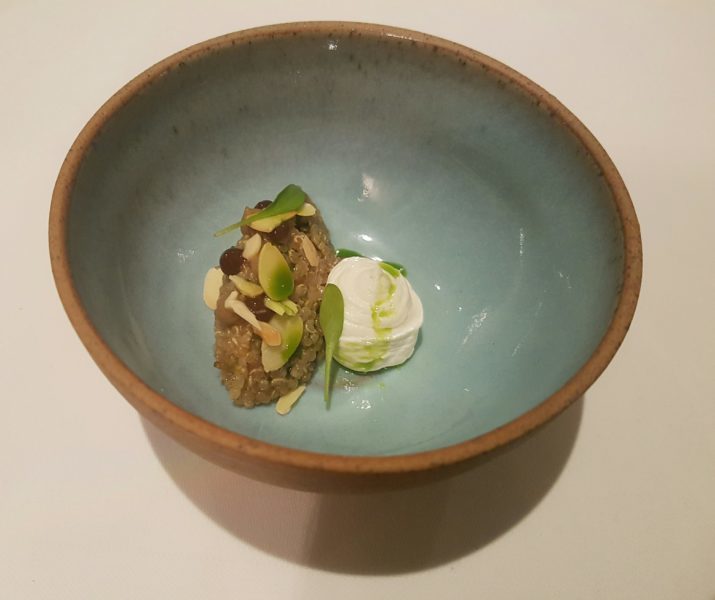 Six Course Tasting Menu
Hand Dived Scottish Scallop
Chicken, Apple, Celeriac and Hazelnuts
Torrontes, Bodegas Norton 2015
Scallops were delicately tender and cooked to perfection.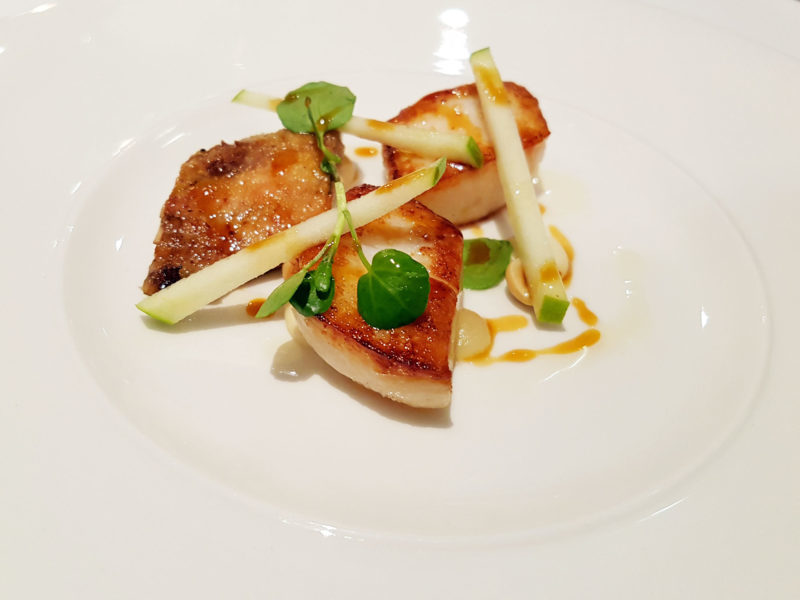 Leek & Potato Soup
Smoked Haddock, Chives and Slow-Cooked Egg
Morgan Jean-Ernest Descombes 2012
Not a soup we'd normally order, the creamy composition was only enhanced by the unexpected union of haddock and egg.
Halibut
Gigha Halibut, Shrimps, Sweet Potato Purple Spouting and Champagne & butter Sauce
Gavi di Gavi, Fossili 2015
Gentle texture combined with the added sweetness of the sweet potato.
Venison
Loin of Scottish Venison, Parsnip, Smoked Bacon, Pear and Dark Chocolate Sauce
Zinfandel, Maggio Old Vines 2014
Smoked bacon accompaniment with the dark chocolate sauce was the perfect combination.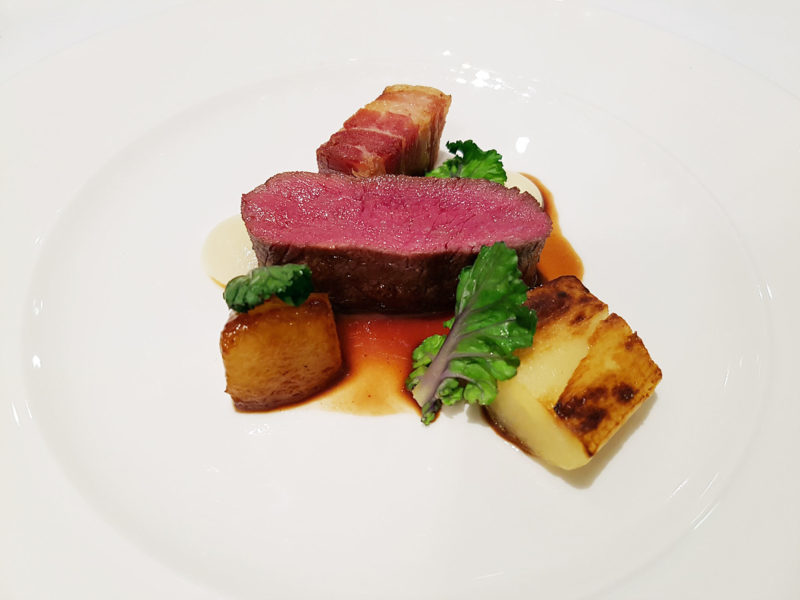 Salted Caramel Fondant
Crème fraîche and cider sorbet
Coteaux du Layon, St Aubin Domaine des Forges 2015
Apple flavours popped through the zesty cider sorbet. The Crème fraîche tied the whole dish together in a salty sweet bow.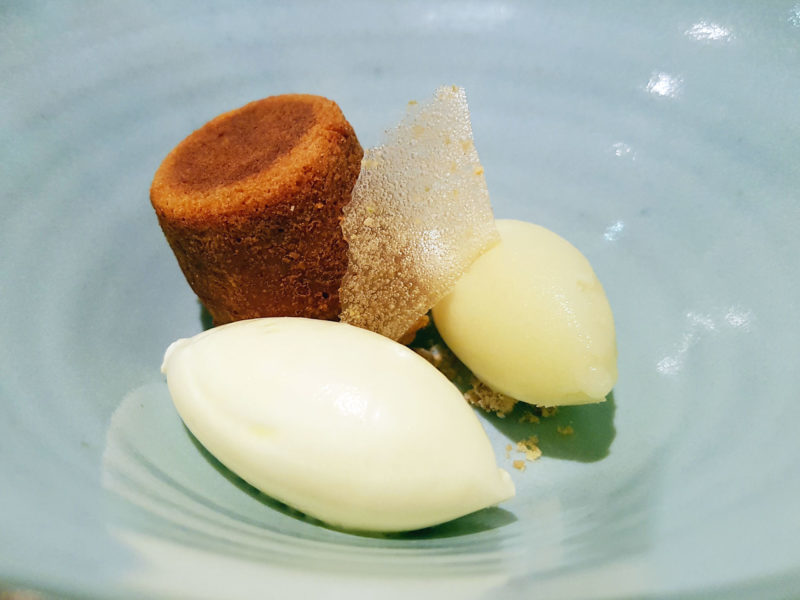 Passionfruit & Mango
White chocolate cheesecake with passionfruit and mango sorbet
Monbazillac, Domaine de Grange Neuve 2011
Smooth, rich and creamy; it tasted like summer in a bowl.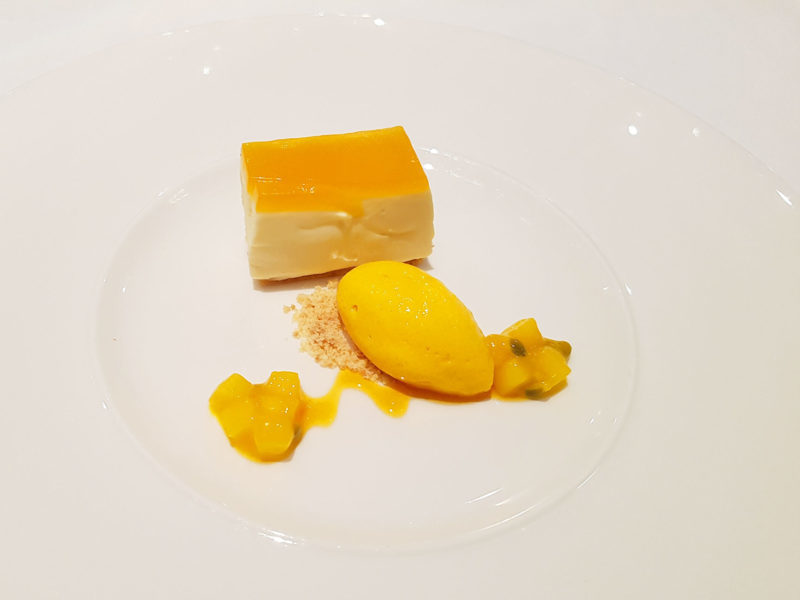 Clearly Forelles is destined for success. The innovative menu that focused on local ingredients, we thoroughly enjoyed our romantic fine dining experience.  Shown above is the tasting menu we sampled in February.  It's worth noting the menus at Forelles changes regularly with seasonality and availability of produce.
Breakfast
For hotel guests, breakfast is a choice of continental options of fruit, cereal and pastries or a hot menu.  A tough choice as the Eggs Benedict and Eggs Florentine both looked superb with silky hollandaise, I opted for the full English breakfast keen to sample more of Shropshire's produce.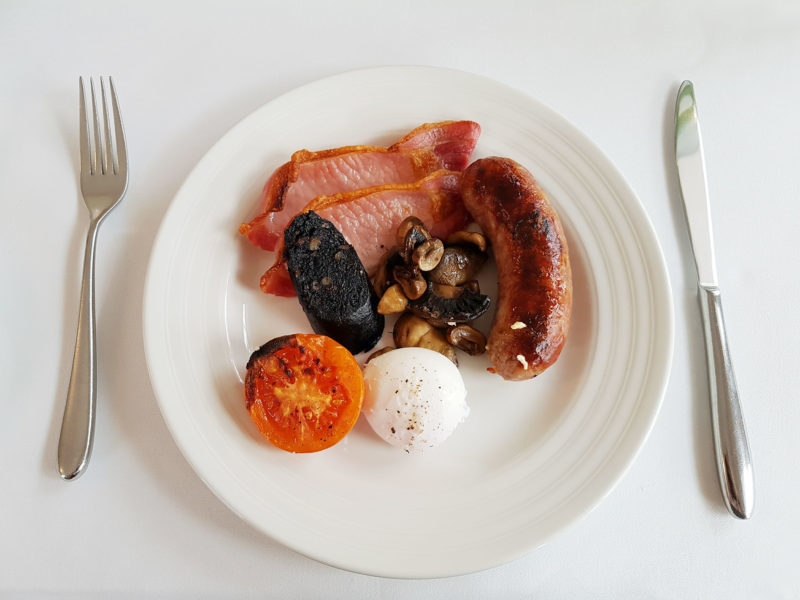 Weekend breakfast at Forelles is clearly a regular feature for Ludlowians with many strolling through the doors to dine.  Choices for non-residents remain the same, full breakfast or continental.  Service is consistently swift.
Romance was still in the air from the breakfast table as we stare longingly at Spa Shell wondering if we have time for another soak or massage before we have to head off.
Our stay at Fishmore Hall reaffirmed the need for romantic getaways like this. The stresses of everyday life can challenge the strongest of relationships.  It is necessary to take time out and get back to nature together.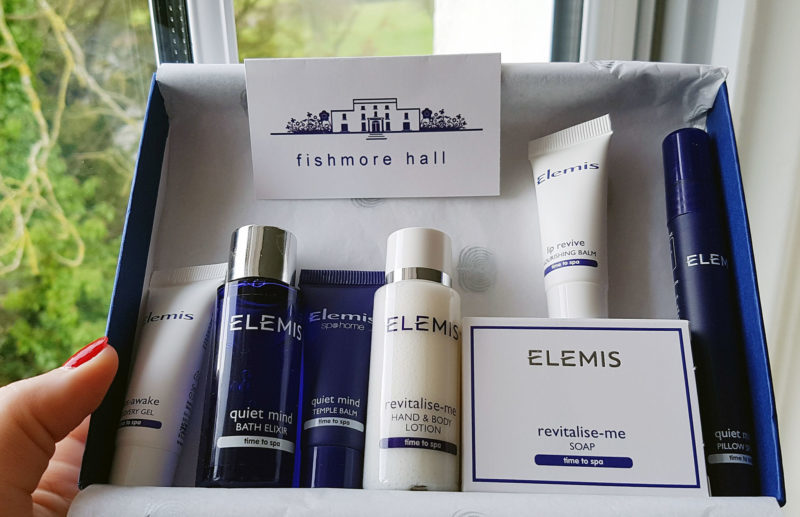 The personal touches are certainly a part of the charm of a boutique hotel like Fishmore Hall. No visit is complete without a little goodie bag.  Left with our evening turn-down service was this very chic gift; a collection of ELEMIS miniatures in a bespoke Fishmore Hall box.  I'll be treasuring that one for my next trip!
Convinced and want to experience Fishmore Hall for yourself?
Be sure to reserve your room early, with only 15 rooms this luxury hideaway is sure to get snapped up.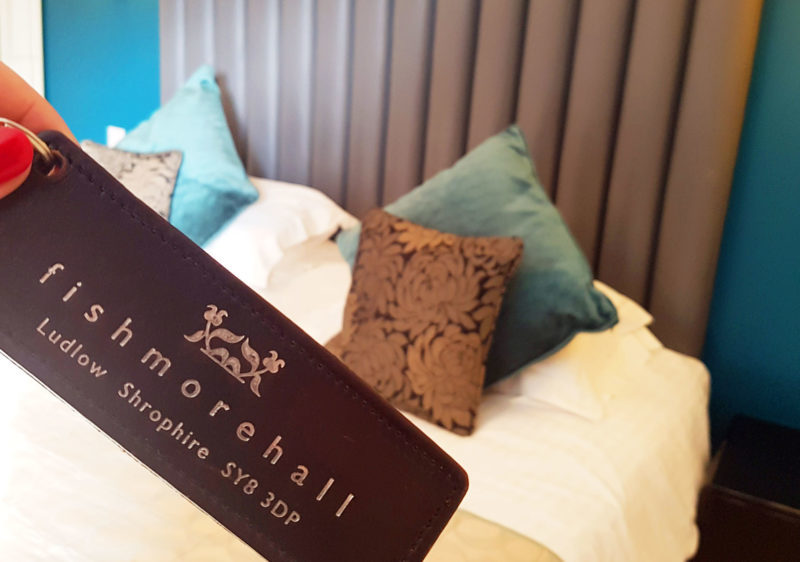 Essentials
Address
: Fishmore Hall: Fishmore Road, Ludlow, 
Shropshire
SY8 3DP
Treatments at Spa Shell are available from £45. We highly recommend you book your treatment when you finalise your booking to ensure availability at your preferred time.
Weekend packages can be tailored to suit your needs and mid-week breaks see saving on room rates.  As guests at Fishmore Hall, you customise your booking further with feather duvet and pillows, rose petals for your bed or arrange a picnic hamper for your ramble through the rolling farmland, woods and river valleys of Shropshire.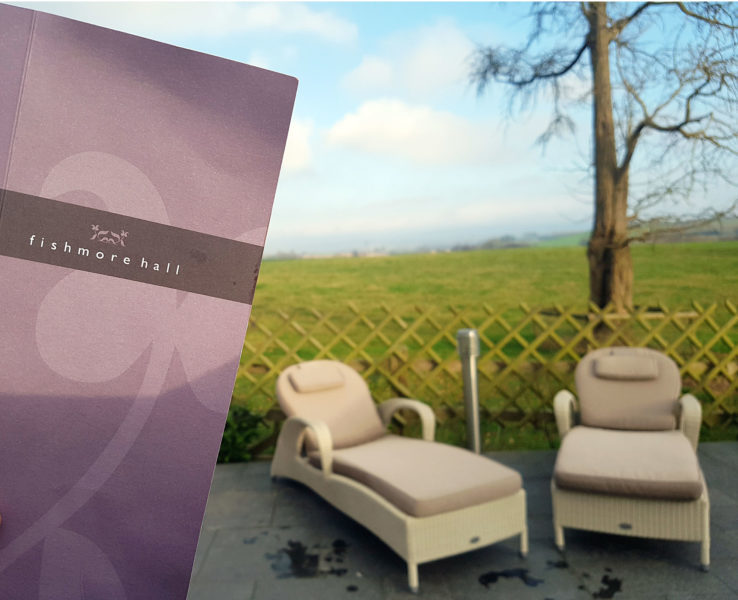 Disclaimer
Roaming Required were guests of Fishmore Hall. All opinions and content remain our own. We were not financially compensated for this post.