The Pullman Liverpool is a 4 ½ star contemporary hotel on Kings Dock in Liverpool, UK. After spending a weekend there it's not hard to understand why it's becoming quite the sought after venue for a short city break.
Liverpool has a reputation as a world-class port city enriched by its influential and industrious history, significant throughout history with the growth of the British Empire.  It flourished at a time of Britain's greatest global influence and in the 18th century it grew into a major commercial port. It represents the early development of global trading and cultural connections throughout the Empire and as such, it's on the UNESCO World Heritage List. 
Opened in February 2016, Pullman Liverpool recently celebrated its first birthday. It features 216 rooms across four categories including one suite and one junior suite, plus an executive floor providing exclusive and discreet access to the neighbouring ECL Arena.
Reception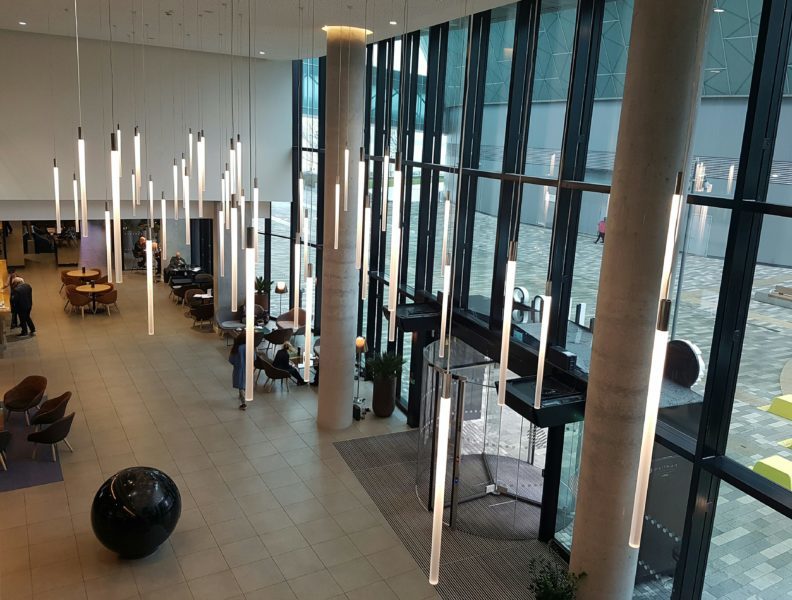 A nod to modern styling, the Pullman has adopted a spacious, natural-lit open plan lobby area.  Dispensing with the traditional reception desk, Pullman actively encourages their guests to take a seat in the soft seating of the Connectivity Lounge to be checked in and out by reception staff using iPads.  
The Connectivity Lounge is a large flexible space which offers guests space to unwind at their convenience.  A variety of newspapers and magazines are available as well as the use of the PCs provided if needed. The lounge can also be remodelled for events and parties.
The addition of a Welcomer during peak times is a nice touch. This staff member eases the congestion on reception by greetings guests, providing directions and general orientation.  
The Rooms
We found ourselves in a Deluxe room. Each floor of the Pullman Liverpool features four Deluxe rooms, one on each corner of the property which provide sweeping views over the city, along the River Mersey and through to King's Dock.
The hotel is styled as an ode to the classic maritime history of the city. Deluxe rooms feature a whole wall motif featuring life on the Docks.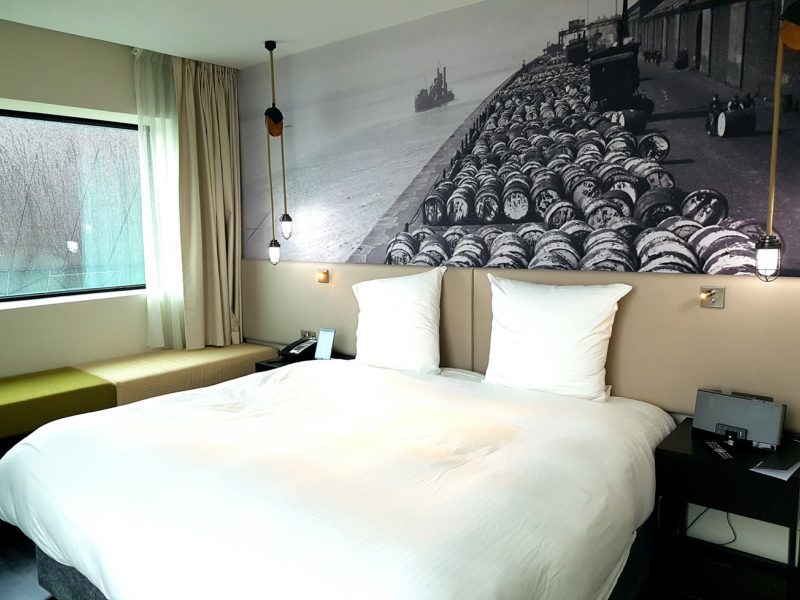 Larger than Superior rooms with a floorspace just shy of 30m2 floor space, the Deluxe rooms have a bench seat under the window, a comfortable king size bed, blackout curtains across the double windows and complimentary water in the fridge. A big hit for us was the addition of an in-room Nespresso Machine for that early morning coffee, iPad to control the TV and a Bose docking station with adapters available from reception for non-iPhone users.
Bathrooms feature a swanky ring-lit mirror over an oversized above-counter basin, a large walk-in shower with a push-button rainfall shower. C.O. Bigelow miniatures with extra amenities like nail file and vanity kit.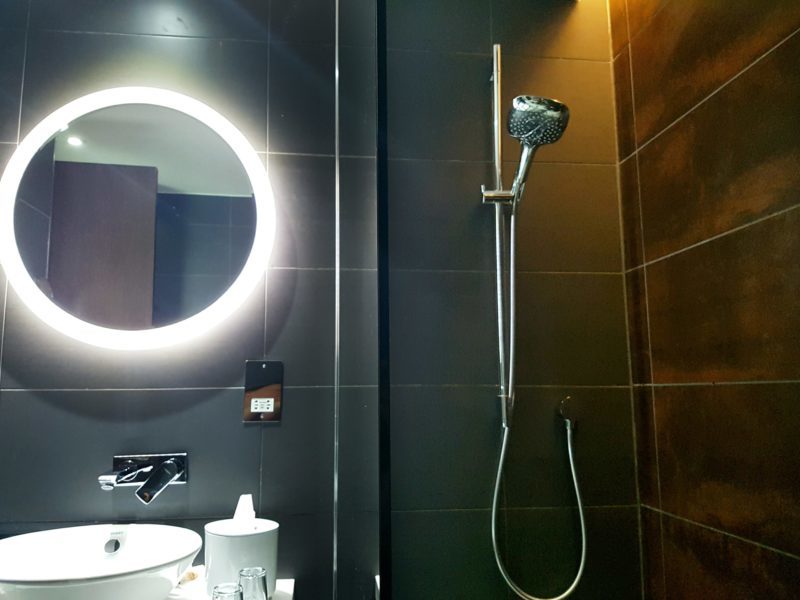 For the small additional supplement, a Deluxe room certainly seems to add a little luxury over the standard Superior rooms.  
Executive rooms
The Pullman Liverpool is neatly sandwiched between the Exhibition Centre Liverpool (ELC) and ACC Liverpool which was voted the best UK conference centre in 2017.
Executive rooms exclusively occupy the second floor of the Pullman Liverpool and provide direct access to the ECL Arena via an undercover elevated footbridge.  It's certainly the pick of the bunch for anyone attending events at the nearby conference and exhibition centres.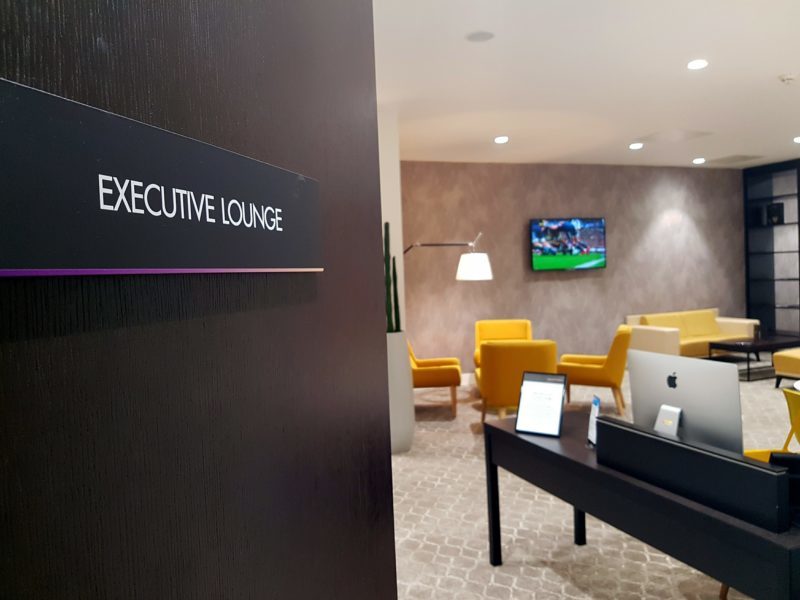 Executive guests also have exclusive access to the Executive Lounge on the same floor.  The lounge features plenty of work space, meeting table and an array on hard and soft seating suitable for work or rest.  There is the self-service buffet of drinks or snacks which is available 24/7, and if that's not enough, guests can have breakfast in the Lounge or order additional sustenance from the premium lounge menu until 10pm.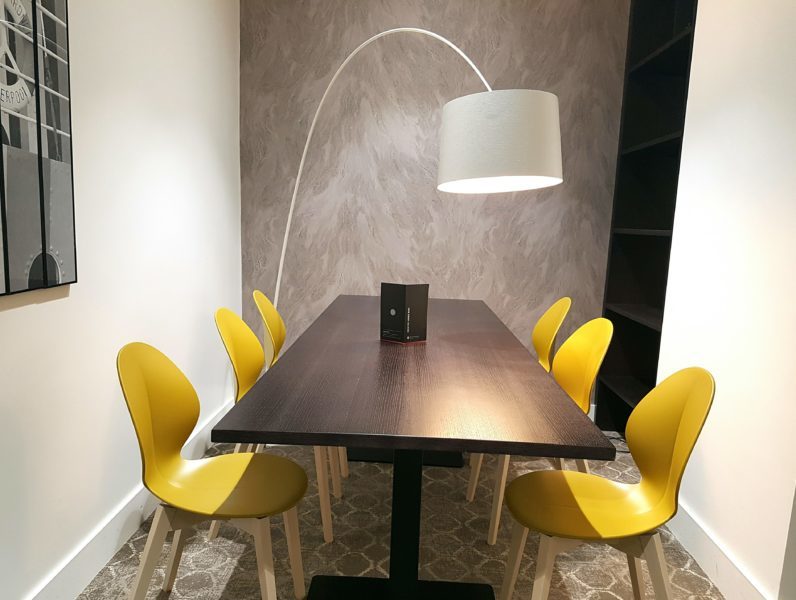 Suite
The Pullman Liverpool has a grand one-bedroom suite. Locally produced artwork dominates the entryway before rounding the corner to the bedroom to discover a super-king bed, floor to ceiling windows with views to Dukes Dock and the 60m high Waterfront Ferris wheel, known as the Echo Wheel of Liverpool. A Nespresso machine, remote controlled curtains, iPad and a Bose docking station all making an appearance as you'd expect in a suite of this calibre.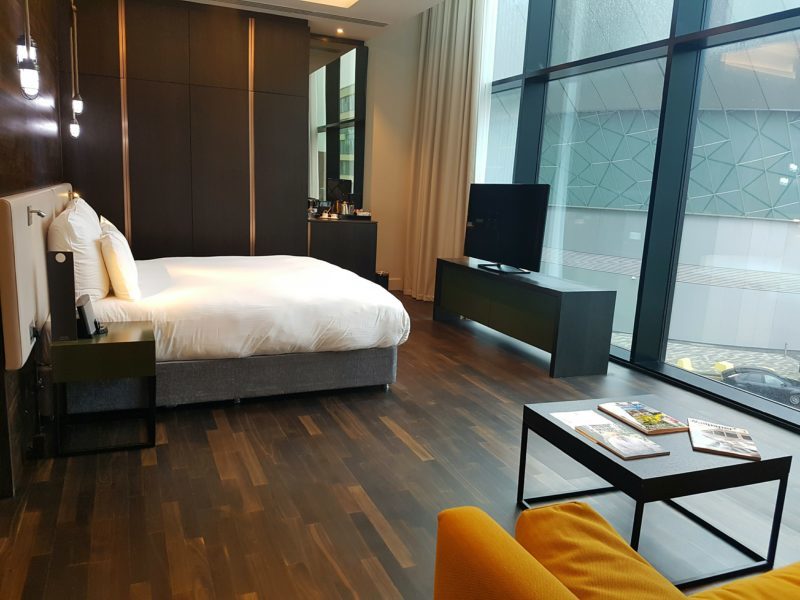 The ensuite features snuggly robes and slippers alongside a large well-appointed bathroom with twin sinks, C.O. Bigelow toiletries, separate shower and sizeable freestanding bathtub.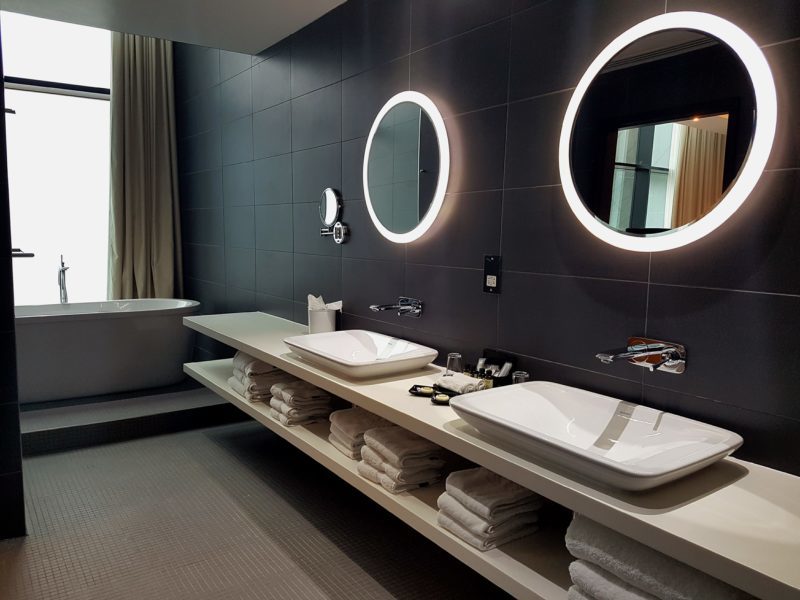 A separate seating area furnished with bright sofas and bespoke locally-made cushions featuring the Liverpool skyline can be rearranged to accommodate additional beds for a small family.  
An additional feature is the ability to partition the bedroom and master bathroom from the rest of the suite via a sliding door making it suitable for business meetings or corporate events.  There's even an additional separate guest toilet to ensure privacy.
Fitness Centre
Situated on the second floor, unlike many hotels who install a gym after construction, the fitness centre at Pullman Liverpool was a vision from conception.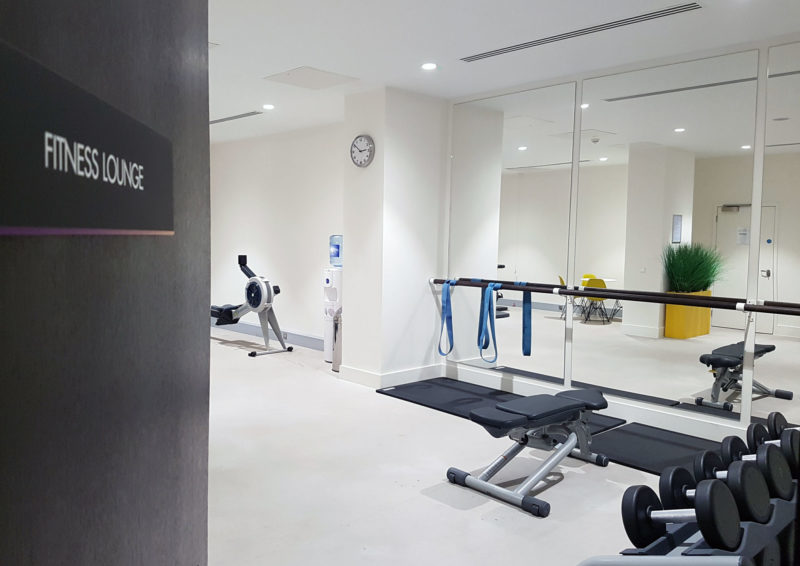 Stocked with the latest cardio and resistance machines, the spongy floor makes exercise more fun.  There's a dedicated space for free weights with a bench, a barre, a stretching zone with matts and bands.
Meeting rooms
On the mezzanine floor above reception, the Pullman Liverpool features two meeting rooms with movable walls.  Suitable for meetings, corporate dinners, wedding receptions with use of the balcony which is ideal for a pop-up bar or DJ.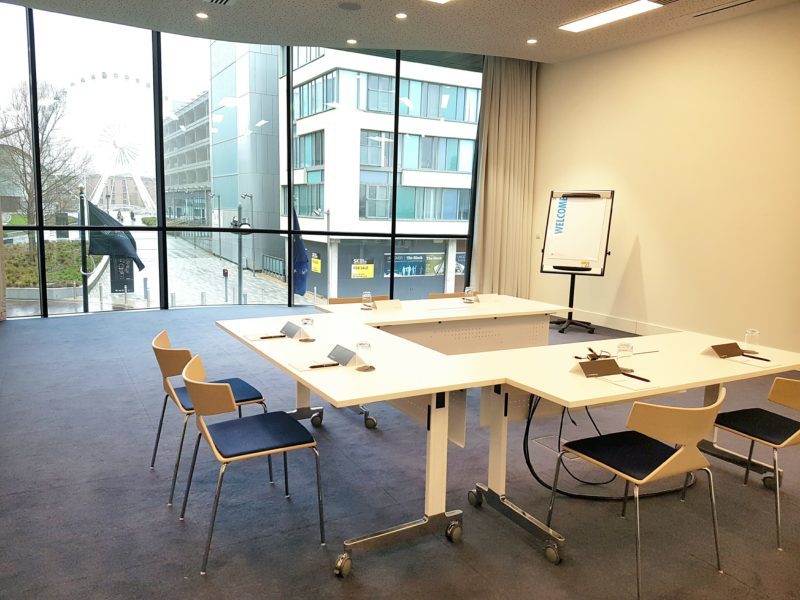 Well equipped with floor to ceiling windows but the single disadvantage is the lack of toilets on this floor requiring attendees to head downstairs to the lobby.  
Food
On the ground floor is Pullman Liverpool's restaurant, Dukes. Catering up to 120 at a time, the open kitchen enables guests to see the kitchen at work for breakfast, lunch and dinner. Wait-staff wear uniforms with baker boy caps and a broken twill weave waist coats which are a nod to the historic Liverpool Docks.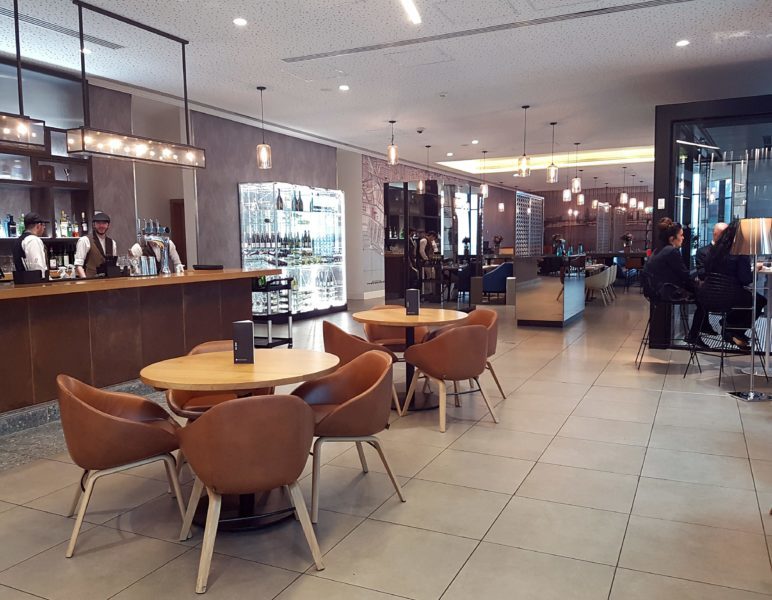 Through the middle of the restaurant runs the Chef's Table. At breakfast, it's frozen and acts as the cold bench for the breakfast buffet. As the centre of the table freezes it's able to keep food chilled, doing away with the need for bowls of ice here to keep the fruit and yogurt cold!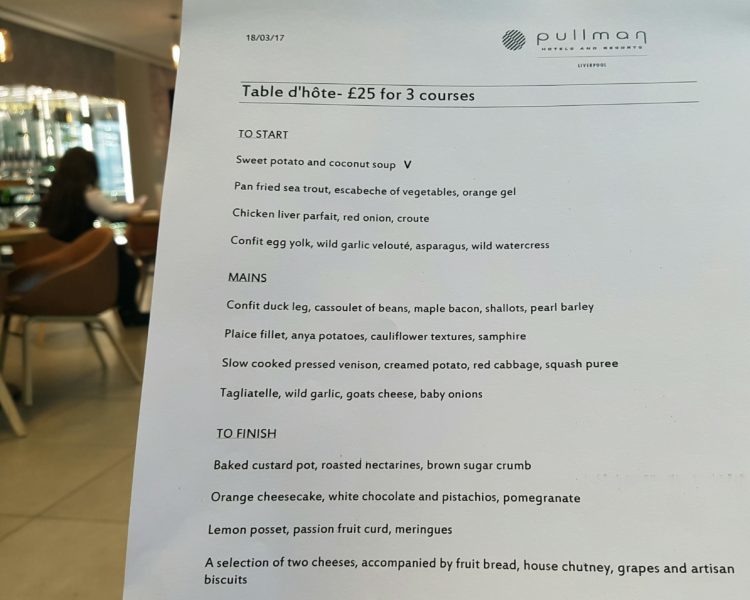 Throughout the day, a bar menu offers like snacks and hors d'oeuvre in addition to an a la carte menu. However for the budget conscious there is a very good 3 course table d'hôte menu for £25 which changes daily.
Keen to try some fancy wine but don't want the whole bottle?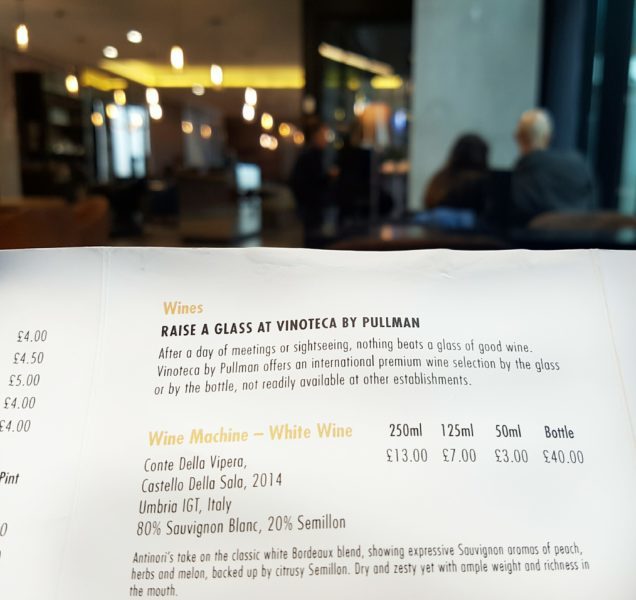 Pullman Liverpool features a Vinoteca. The only one of it's kind in Liverpool, it's essentially a wine vending machine which offers self-service wine by the glass operated by a dedicated prepaid card. The cards enable the bearer to try selected wines by various sizes for a set fee.  A taste, a small glass, a large glass or bottle are all available portions on wines that you may have otherwise passed on.
Room Service
After arriving very late into Liverpool meant we ordered room service at 11pm.  Who'd have thought you couldn't get chips at 11pm! The Pullman Liverpool does offer room service however the menu is very restricted. While the pizza we ordered was hot and tasty, the saga of acquiring it and the restricted menu left a lot to be desired.
Breakfast
Breakfast at Pullman Liverpool is all about choices.  A large self-service hot english breakfast buffet including sausage, black pudding, bacon, scrambled eggs and beans is laid out on the open plan kitchen.  In addition, chefs are on hand to cater to dietary needs and make special requests like poached eggs and omelettes.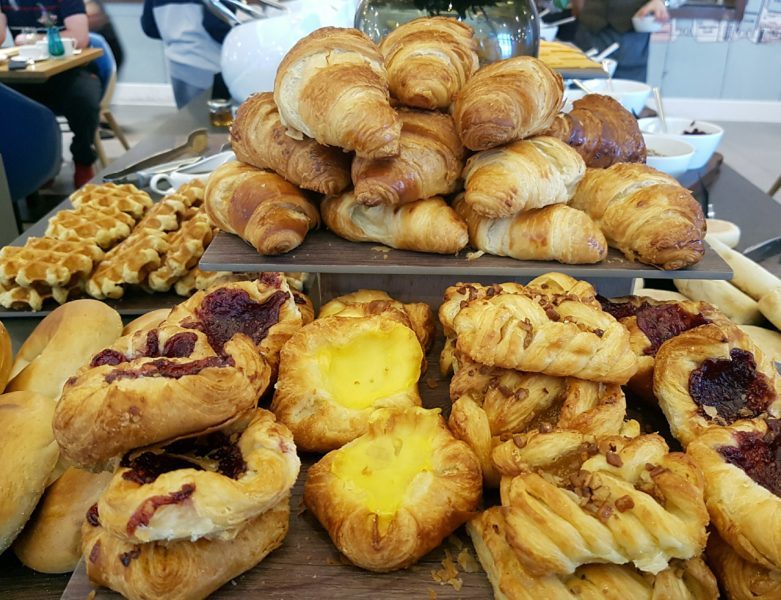 Endless continental options include cereals, cheese, sliced cold meats and fruits all lined along the frozen Chef's table.  Plus plates of waffles, muffins, pastries and pancakes, providing endless choices.
Each table is well equipped with salt and pepper grinders as well as Wilkin & Sons potted condiments.
Final Thoughts
Liverpool is a fun, vibrant, and historical visit which should be on everyone's To Travel List so when you do make it for a weekend away, we can highly recommend a stay at the Pullman Liverpool.
Disclaimer
Roaming Required was not commissioned to publish this post.  We did not receive any financial incentive nor a complimentary stay in exchange for a review.  This post was written for the sole purpose of helping our readers choose where to stay during their visit to Liverpool.