Did you know that the 18th May is International Museum Day?
What better way to celebrate than to share my favourite 9 museums in London! London is home to some of the best museums in the world, and for the most part, they're free! These spaces are something special and I am excited to share them with you.
Science Museum
This is probably my favourite museum in the entire city!  The Science Museum is seven floors of entertaining exhibits which includes everything from items from science, technology, and yes even outer space.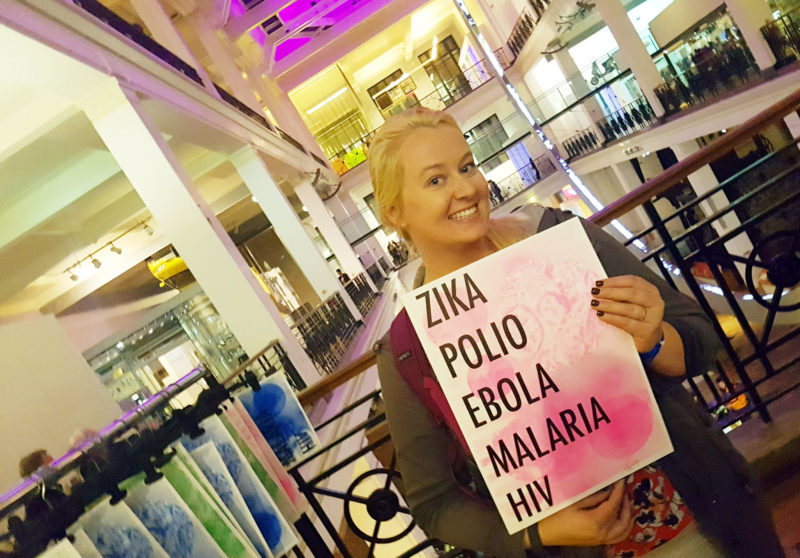 One of my favourite things about the Science Museum is the monthly late night events, aptly named Lates. The museum organised monthly Lates is the opportunity for adults with an interest in the sciences to explore the museum in a child-free environment plus the museum offers up to 30 specialised events on the night ranging from lectures to hands on activities to silent discos. All the activities are connected to the theme of the month. Some of the Lates themes we've enjoyed have been – Contagion, Childhood, and the theme for May is Robots which sounds right up our alley! 
Don't Miss: The command module from the Apollo 10 space mission, it went around the moon in 1969!
Where:  Exhibition Rd, Kensington, London SW7 2DD
Closest Tube:  South Kensington
Cost: Free entry, special exhibitions cost
Verdict: GO! Do it now! Best seen during their monthly adults-only Lates sessions.  
Natural History Museum
This iconic Victorian building is probably most recognisable by its ornate terracotta facade but did you know that it is home to millions of assorted plant and animal samples, prehistoric fossils, and a plethora of rock and mineral specimens. Some of collections were once owned by Charles Darwin, the world renowned naturalist and author of the groundbreaking book On the Origin of Species. 
In December, the manicured gardens of the Natural History Museum embrace the festive season and are transformed into one of the best ice rinks in the city.  We've watched the ice skaters glide across the ice and make it look all too easy.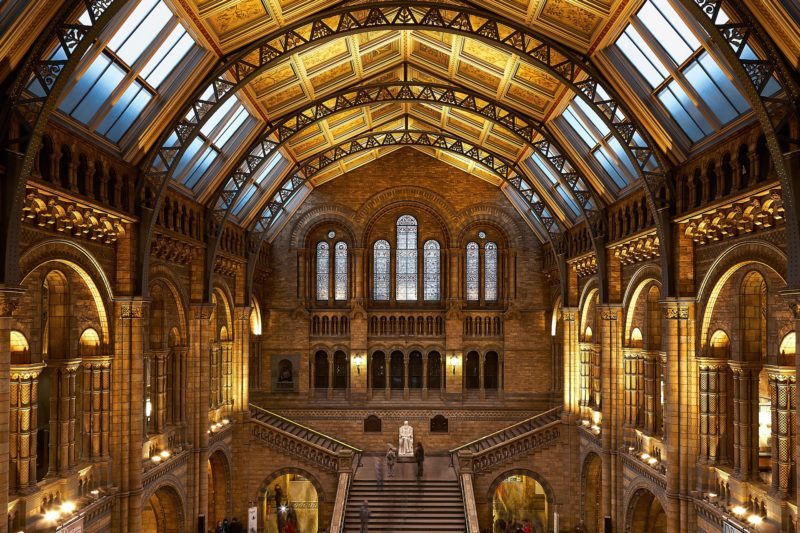 One of the most impressive features of the Natural History Museum is Hintze Hall, a grand hall which staggers belief and results in many visitors standing there mouth agape in awe. For the past 35 years, greeting visitors to Hintze Hall was Dippy the Diplodocus, the much loved dinosaur cast that some would call an unofficial mascot for the museum. I say was because this much loved mascot has been retired and will be replaced with a gigantic blue whale skeleton that will be unveiled in July 2017.
Will the new blue whale skeleton be as popular as Dippy? Only time will tell…
Don't Miss: Hintze Hall, visit once the hall reopens in July 2017. See him before he's retired, Dippy is on tour in the UK from Feb 2018 to Oct 2020. 
Where: Cromwell Rd, Kensington, London SW7 5BD
Closest Tube: South Kensington
Cost: Free entry, special exhibitions cost
Verdict: Superb! Avoid on weekends.
Hunterian Museum
First things first, I'm telling you now that this museum is not for everyone. Do I have your attention? Are you intrigued? Ok, read on…
The Hunterian Museum is part of the Royal College of Surgeons which means this medical museum boasts an unrivalled collection of all things surgical and boasts one of the oldest anatomical collections in the UK.
I told you that not everyone is going to be a fan (and yes, it does make Russ squirm just a little)… The museum explores medical practices and techniques across the centuries. Starting with the less than clinical practices of the pioneering surgeons and continuing through to the modern Laparoscopic surgery of today.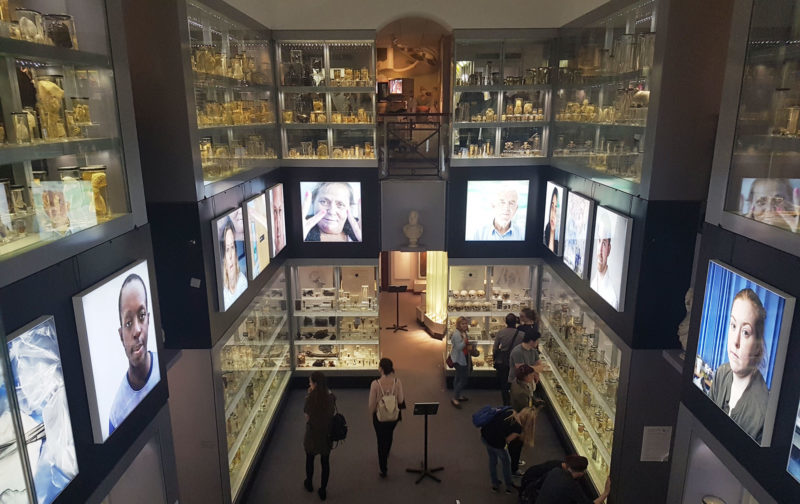 As I mentioned before, the Hunterian Museum isn't for everyone and certainly not for the faint of heart but if you like something a little different then this is the museum for you; examine surgical instruments from the 17th century, skeletons of rare animals like the Dodo bird, and even feast your eyes on whole specimens such as human and animal babies.
Don't Miss: The 7ft 7in (2.31 m) skeleton of Charles 'The Irish Giant' Byrne, a celebrity back in the Victorian era.
Where: Royal College of Surgeons Lincoln's Inn Fields, London WC2A 3PE
Closest Tube: Holborn
Cost: Free entry
Verdict: Not for everyone, keen anthropologists, medical students and curious nobodys.
Update: The Hunterian is now closed for a major refurbishment. It won't open again until summer 2020.
British Museum
With over six million visitors each year, I don't think you can really see London without at least spending a good few hours at the British Museum.
It's not really surprising to learn that the British Museum frequently is rated one of the world's oldest and best museums for its vast and varied collection. The collection is monumental, that only 1% of the collection is on public display at any time.  #gasp!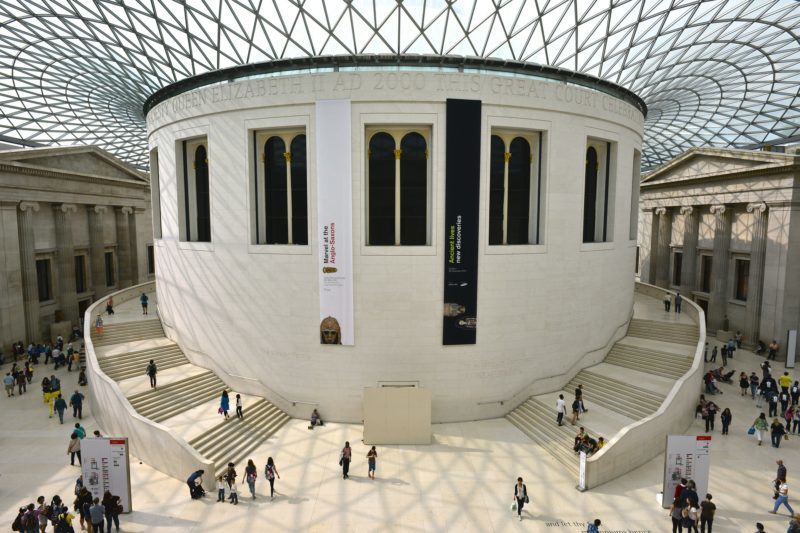 It's easy to spend an entire day here however if you're short on time, join one of the free guide-led 20 min spotlight tours every Friday.
Don't Miss:  Stop in the Great Court to admire the impressive glass roof before heading to the Rosetta Stone carved in 196 BC. Then head to the magnificent Elgin Marbles. Head straight for the Egyptian Gallery to see the mummies and the world's second finest collection of Egyptian antiquities outside Egypt. Lates: Open until 8.30pm on Friday nights
Where: Great Russell St, Bloomsbury, London WC1B 3DG
Closest Tube: Russell Square
Cost: Free entry
Verdict: Go now! Avoid during school vacation.
V&A
If you have a conversation with anyone in London who has an interest in art and sculpture then chances are they'll recommend a visit to the V&A, also known as the Victoria & Albert Museum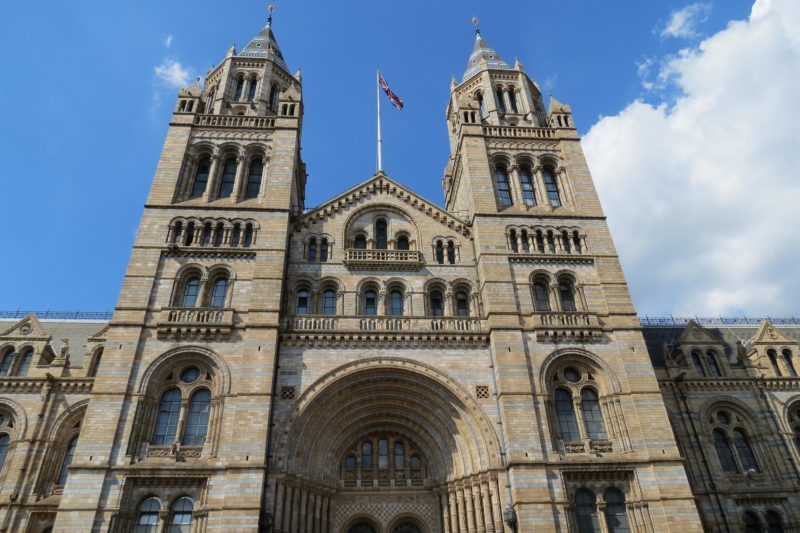 During your visit to the V&A, you will take a walk through British history as this museum is arranged chronologically and jam packed with ceramic and sculpture.  It's the world's largest museum of decorative arts and design, housing a permanent collection of over 4.5 million objects. Entry to the new Sackler Courtyard will be through the arches of the 19th-century screen designed by Sir Aston Webb, an integral part of the museum's original building.
Don't Miss: Jumpsuit worn by Mick Jagger on the Rolling Stones in 1972, Roman column casts from ~100 AD, Leonardo da Vinci's notebooks, and the Cartier Manchester tiara.
Where: Cromwell Rd, Knightsbridge, London SW7 2RL
Closest Tube: South Kensington
Cost:  Free entry, special exhibitions cost
Verdict: Recommended
National Gallery
Considered to be the centre of London, the National Gallery sits high atop Trafalgar Square, eyeing Nelson on his column from across the Square. Since opening in 1838, the Gallery has been committed to the enjoyment and education by remaining free and accessible to all.
The National Gallery is home to more than 2,300 works. Some of the artists on display include: Monet, Botticelli, Rembrandt, Renoir, and Van Gogh.  As you stroll through the museum, take a minute to imagine what effort it took to rehouse the entire collection in just 10 days. That's exactly what happened before The Blitz.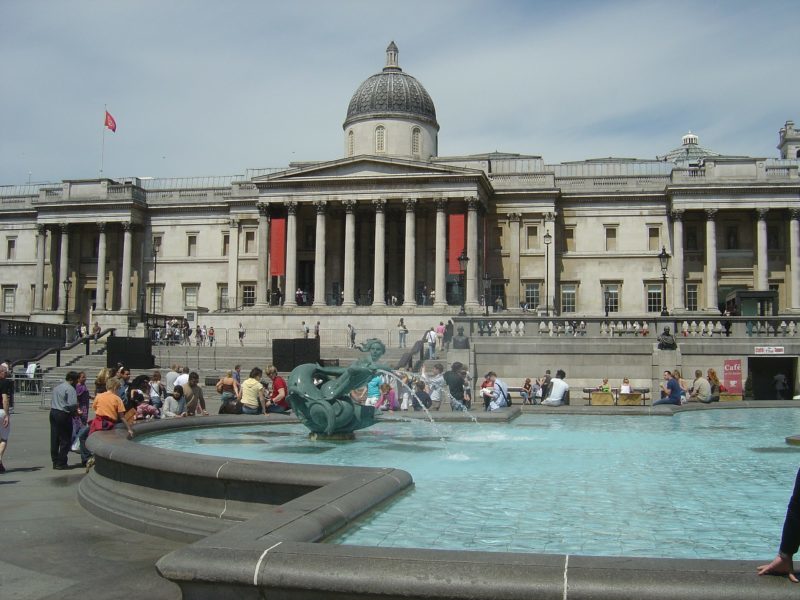 Don't miss:  Botticelli's Venus and Mars and Van Gogh's Sunflowers. If you find yourself keen to take refuge the crowds of tourists, try the Museum's cafe upstairs that has window seats which overlook the Square.
Where: Trafalgar Square, London WC2N 5DN
Closest Tube: Charing Cross
Cost:  Free entry
Verdict: Art lovers won't want to leave.
Churchill's Cabinet War Rooms/Imperial War Museum
Ok, so this one might be (arguably) one of our favourite places in London. CWR is one of five branches of the Imperial War Museum.
Beneath the streets of Westminster lies the Cabinet War Rooms. This underground bunker acted as the heart of Britain's government during the Second World War as Churchill and his inner circle plotted the route to Allied victory.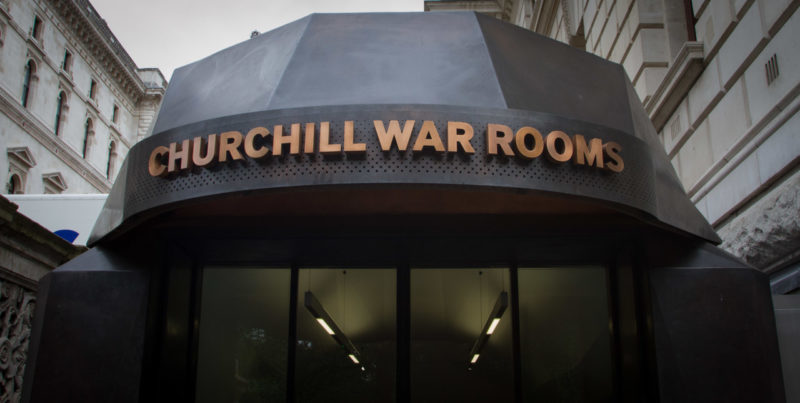 With a visit to the War Rooms you'll gain insight into one of the greatest Prime Ministers in British history, Sir Winston Churchill, and how the city of London was kept functioning whilst under siege in 1940s.
Don't Miss: The Map Room which remains exactly as it was left on the day the lights were switched off in 1945.
Where: Clive Steps, King Charles St, Westminster, London SW1A 2AQ
Closest Tube: Westminster
Cost:  Adults from £17
Verdict: History buffs will easily spend half a day here!
London Transport Museum
Umm a museum about transport? You're kidding, right?
I can completely get that because the idea of spending hours traipsing through a museum learning about cars and trams doesn't exactly sound interesting… and the great news is that the London Transport Museum is totally worth visiting!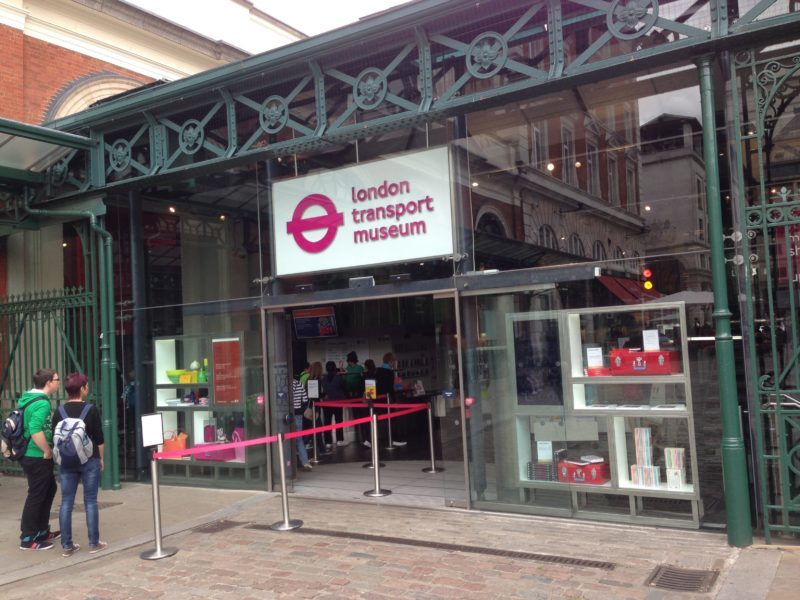 This Covent Garden-based museum is home to the first train used on the London Underground. A very family friendly museum it offers guide booklets to children and encourages them to explore the museum, collecting stamps along the trail.
Some of the exhibits are hands-on like sitting in carriages from a bygone era. Be sure to stop and admire many design icons, although none more recognised than Harry Beck's original tube map.
Don't miss: Pay homage to Frank Pick, the man responsible the London Underground brand and ensuring the iconic roundel logo became an intrinsic part of London's visual identity. Be sure to visit the ground floor where you can try your hand at driving a tube train … in a simulator.  
Where: Covent Garden Piazza, London WC2E 7BB
Closest Tube: Covent Garden
Cost:  Adults from: £17.50  – Tickets allow unlimited entry for 12 months
Museum of London
London is home to so much history that it almost defies explanation, I said almost.  Set over two floors, the Museum of London is the place to go for everything you have ever wanted to know about the history of London.  Everything from before the Romans to the present day is under one-convenient roof.
Ever wanted to know more about the Great Fire of London?  What about the place that is London before London existed? You can explore the lives of the people living in the Lower Thames Valley from 450,000 BC until the creation of the Roman city of Londinium around AD 50. The Museum of London where where you can learn about London's grand history – the highs of Condominium , the lows of the Great Fire, and everything in between!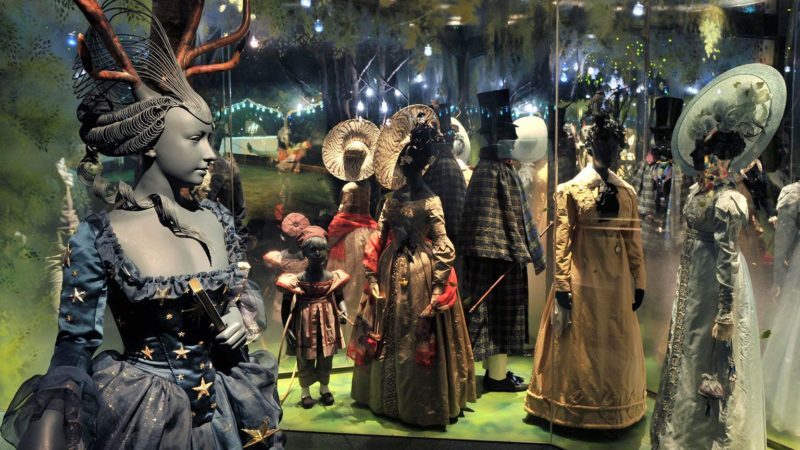 Don't miss: Victorian London section which celebrates authors like Charles Dickens and the inspiration for characters such as Oliver Twist and the Artful Dodger.
Where: 150 London Wall, London EC2Y 5HN, England
Closest Tube: St Paul's
Cost: Free!
Have you visited any of these museums in London before? What did you think?

Tell us in the comments below
Like it? Pin it for later!