Joining a stack of independent eateries on Camden's infamous Inverness Street, salsaing it's way down the street to a Cuban jive is Little Havana.
This restaurant and bar is brand new after opening in November. Chefs Pedro José Martínez Ferre and Havana-born Raul Jarez Rodriguez serve up authentic Cuban grub from chillindron de chivo (Cuban goat stew) to pollo a la brasa (marinated chicken on a skewer) from the bustling kitchen, with plenty of rum-based cocktails from the bar.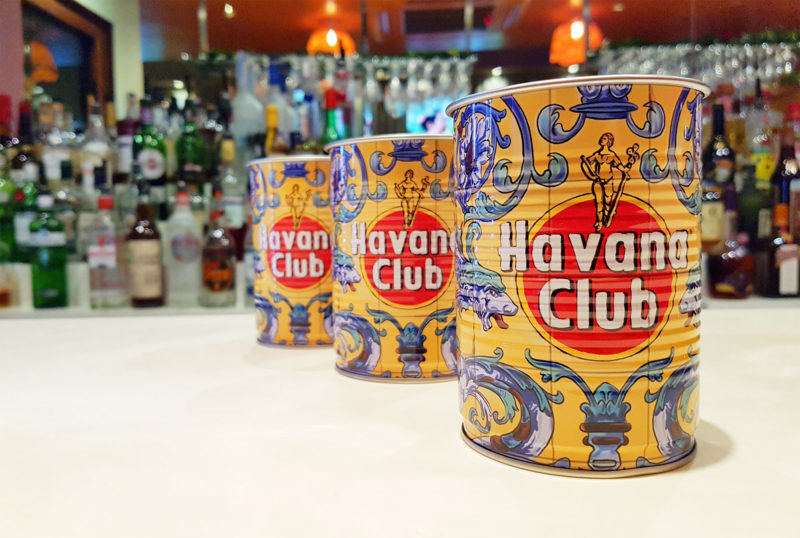 The Venue
Seating 65 comfortably, Little Havana is decorated with a Cuban vibe. The bright decor continues from the colourful lamps through to the blue walls with pink lighting. The interior is polished off with accents of straw and wicker, water glasses made from tin cans and walls painted with murals and prints of beach settings and the Chevrolet Bel Air's of the 1950s.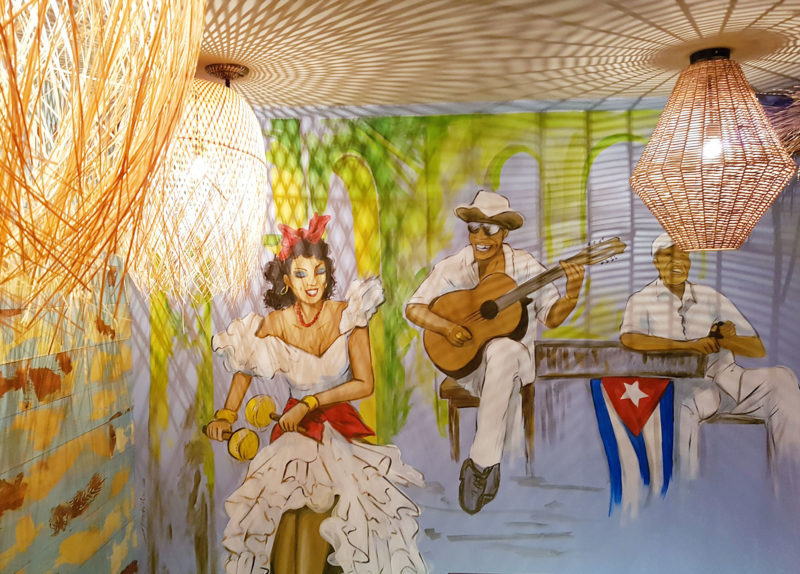 Percussionist Orsete Noda oversees the coordination of London's best Cuban musicians who are on rotation to provide live music and entertainment.  An array of merriment is available at Little Havana with spirited Salsa classes for the after-work crowd on Tuesdays, or on Sundays for those wanting to salsa their way into the working week. For the energetic, there are Latin Beats nights all the weekend.
The Food
The food menu is Cuban through-and-through.  My starter was a toss up between Cubanito de Camarones (Cuban style potted shrimps) and Tostones Rellenos Con Ropa Vieja (fried plantain stuffed with pulled beef) both which sounded pretty good.  Although I had no clue what fried plantain was until it turned! It turns out, it's mighty tasty when deep fried. Yum!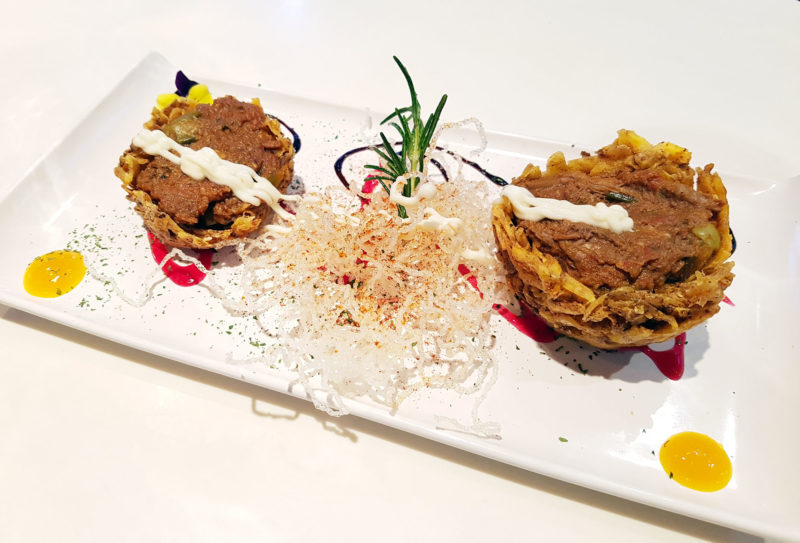 The options for mains are limited to seven options plus grilled sandwiches, one of which I opted for.
My Pan con Bistec (grilled Cuban steak sandwich) came with caramelised onions, french fries and garnished with lettuce and cherry tomatoes. The steak serving was sparing when compared to portions of other dishes coming out from the kitchen.  The bread easily crumbled away in my hands, it was tasty but overly messy and lacking in substance.  I looked longingly at the Pollo and Carne a la Brasa (Cuban style marinated grilled chicken/beef on a wooden skewer) chosen by my dining companions.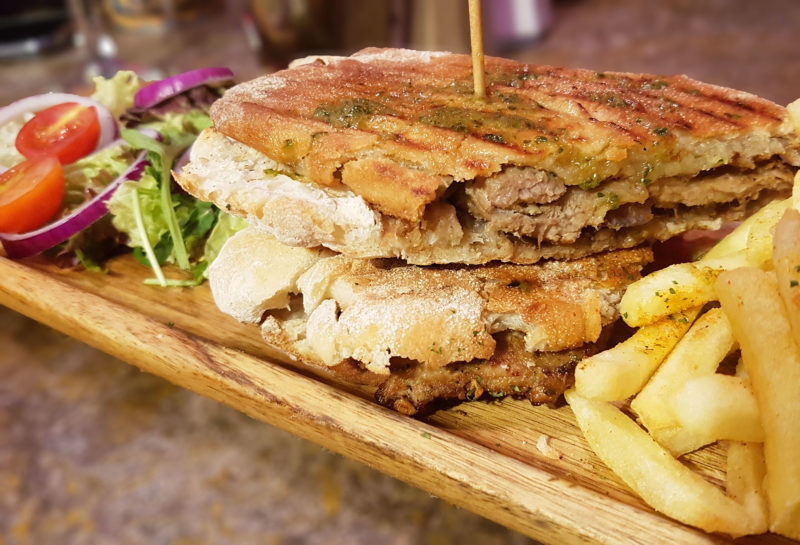 Considering dining on a weekend? If so then you're in for a treat, with a special weekend menu of Cuban-style paella dishes for one (£11), or to share (£20).  
The Drinks
This bar is stocked with all the spirits you'd ever need.  But first let's start with the soft stuff.  Beers on tap are limited to Cruzcampo (£5), a Pale Lager beer Pilsner, and Hop House 13 (£5) a double-hopped lager, brewed with Irish barley and aromatic hops from the creatives behind Guinness.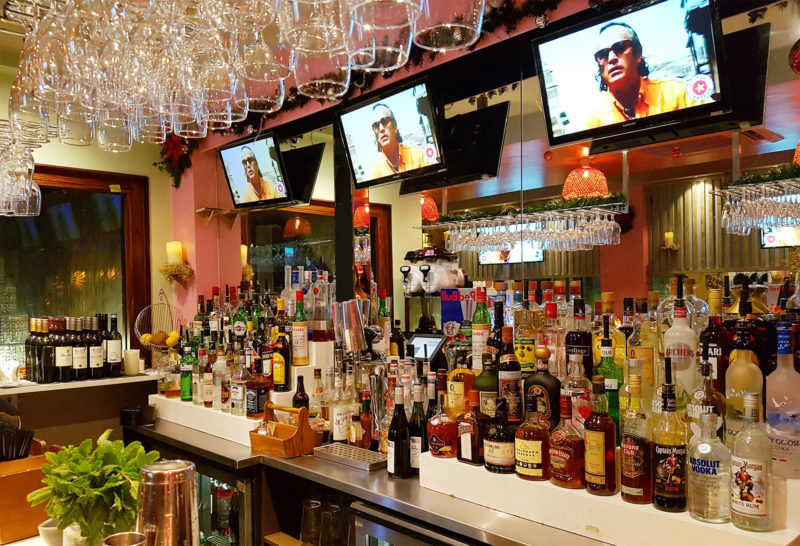 As with most establishments, more beers are available by bottle.  I was pleased to see a Cuban beer on the menu, in the form of Palma Cristal, Cuba's top selling beer. Lightly balanced it has a medium sweetness in taste with a slightly bitter finish.
More up my alley was the infamous two page cocktail list which was clearly inspired by Cuba's most famous export, rum. The list featured plenty of familiar names like Old Fashioned and Mojito with a Cuban twist.
I've always been a sucker for anything Grey Goose so I promptly ordered the Louisana Lemon Drop (£9).  Piquant and potent from the orange zest and lemon juice it's certainly something I could easily order time and time again.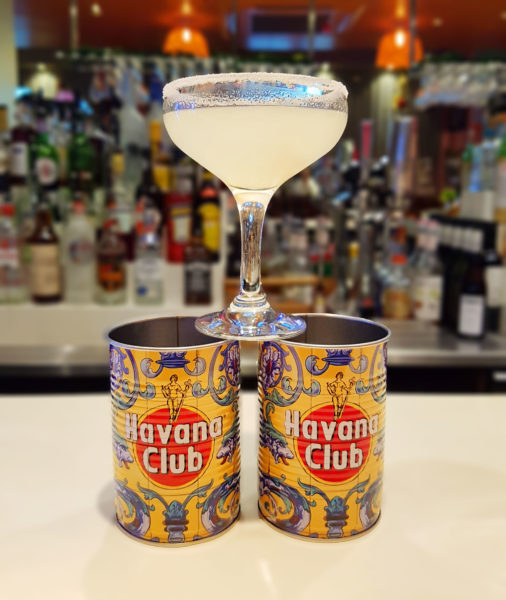 Need something more?  With a column all of their own are the Cuban favourites; frozen daiquiris and margaritas (£8).  Don't know the difference? Both have that familiar citrusy taste. The main difference is the base spirit, daiquiris use rum and margaritas use tequila. Neither of which is a favourite spirit of mine, but as they say.. When in Rome.. Or is it When in Cuba?
Salud!
The Verdict
Between the bustling atmosphere and the fully stoked bar with decent happy hour specials (5pm-8pm), Little Havana is a night out at a reasonable price.  Order one of the tasty starters, skip the grilled sandwiches and go straight for the main dishes.  Portions are generous so go hungry!
The Essentials
Little Havana
Where: 20 Inverness St, London, London NW1 7HJ
Cost: Entrees: from £6, mains from £11
Nearest tube: Camden Town (northern line)
Information & Menu: Little Havana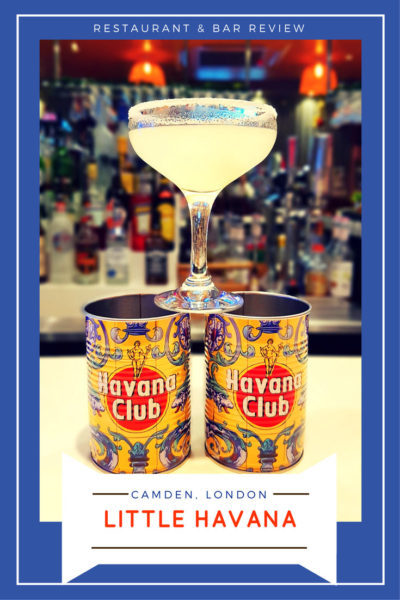 This experience was kindly provided by Little Havana in conjunction with Love Popups London in return for an honest review. We were not financially compensated for this post.