What is there to do on a rainy Sunday in London? Many people would say LOTS! There's the Tate, The National Gallery, endless numbers of tour buses form which you can see the sites without getting wet.  But together with a friend, today we treated ourselves to take a traditional English Afternoon Tea.
Afternoon Tea is a British ritual introduced in the 1800's that has become a modern day tradition for those looking for a little bit of culture.  Whether it be a special occasion or a weekly event, it's certainly an experience.  Friendly and efficient staff present a meal composed of assorted 'finger' sandwiches, scones with clotted cream and jam, sweet pastries and cakes. And one can't forget endless pots of tea.
The list of places to go for such an event is endless. After extensive debate and and online research the field is narrowed by availability.  Unless you're prepared to book three months in advance you can forget about getting a table at The Ritz. So we decided to try The Lanesborough.
Situated on prime real estate of Hyde Park Corner, facing the Wellington Arch and the winner of four consecutive UK Tea Council Award of Excellence it seemed the best of the options available.
Our Tea sommelier was on hand to answer any questions we had regarding the nine page tea menu and assist with tea choices, but I must confess the non-native English speaker's accent was so thick I had no idea what was being said.  So I was a bit disappointed and ordered the Lanesborough Afternoon Blend. It was good, but not what I was looking for.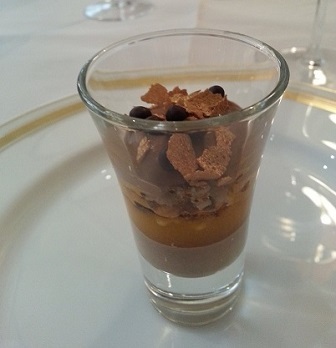 Like most Afternoon Tea's, we opted for a champagne starter.  Our Taittinger champagne arrived promptly quickly followed by fresh cut strawberries and fresh cream.  Starter was a coffee, passionfruit concoction that was not only rich but oh so moreish!
Tea arrived on cue with milk in a solid silver jug and a sugar bowl so heavy it needed two hands to lift it! Warm goats cheese and onion tarts and a three-tier plate stand was presented with assorted 'finger' sandwiches, sweet pastries and cake. As with most Teas, all were refillable upon request.
An iconic hotel like The Lanesborough should have Afternoon Tea refined to a fine art.  I must confess it's the small things and the finishing touches that left me feeling a bit ho-hum.  The staff were polite and clearly very busy but there was a distinct lack of attention after our tiered tea stand arrived.  No milk, no water and repeatedly having to ask for it more than once.  
Gentlemen reading this, I apologise if this intrudes into the sacred secrets of the Ladies but it has to be said.  There was holes in the walls of the cubicles (see red circle), one cubicle had the door stop falling off and the placement of the waste baskets was a downright hazard.  And the Ladies was unattended which was a bit of a surprise for me. These small touches of maintenance and upkeep don't take a lot of effort or cost a fortune so there's really no excuse.
Grand total for the afternoon came in at £58/head. You pay for the experience, absolutely   But if The Lanesborough wants to keep up with the big boys in this arena it needs to remember what other establishments are offering and either keep up or beat it.
The Essentials
Afternoon Tea at The Lanesborough
Where: Hyde Park Corner, London SW1X 7TA
When:  The Withdrawing Room & Céleste from 2pm – 5pm.
Cost: Afternoon tea starts at £57/head.
Dress code: Smart.  Leave your sneakers and jeans at home.  At The Lanesborough, it's jackets for gents and your Sunday dress for ladies.
Verdict: The Lanesborough boasts that their afternoon tea includes 'all the beloved trimmings'.  I'm not entirely sure where these trimmings were hidden as I felt it a bit lacking.  While the service was a bit hit and miss, for the price I expect a better.  Afternoon tea is an experience and one best shared with a spouse or friend that appreciates the finer things in life.  Personally, I left feeling full and still somewhat empty.